This chettinad style fish fry is simple, easy to make and tastes delicious.  Fish fillet marinated in chettinad style masala and then shallow fried in oil.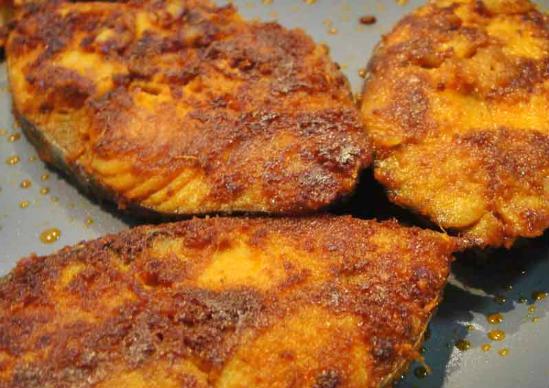 Ingredients:
Fish Fillet – 1 (preferably pomfret)
Shallot (Sambar Onion) – 1, peeled
Turmeric Powder – a pinch
Ginger Garlic Paste – 1 tsp
Curry Leaves – few
Salt as per taste
Lemon Juice – 1 to 2 tsp
Rice Flour – 1 to 2 tsp (optional)
For the masala:
Cumin Seeds – 1/4 tsp
Saunf – 1/4 tsp
Coriander Seeds – 1/2 tsp
Black Peppercorns – 1/4 tsp
Dry Red Chillies – 3
Salt – 1/4 tsp (optional)
Turmeric Powder – 1/8 tsp
Method:
1. Wash the fillet well.
2. Rub the turmeric powder and salt all over.
3. Keep aside for a minute or two.
4. Wash again and keep aside.
5. Dry the masala ingredients (except salt) for 15 seconds and grind to a fine powder.
6. Add salt and mix well.
7. Grind the onion and ginger garlic paste to a smooth mixture.
8. Add salt, curry leaves, rice flour and ground masala powder to the paste.
9. Mix well and rub this all over the fillet.
10. Keep aside to marinate for 10 to 15 minutes.
11. Heat oil in a shallow frying pan.
12. Fry the marinated fish until golden brown and crisp.
13. Remove and drain excess oil.
14. Serve warm with lemon wedges and onion rings.