Namak Pare (Namak Para) is a popular crispy, crunchy, savoury snack made during diwali and other festivals. It can also be served as a tea time snack.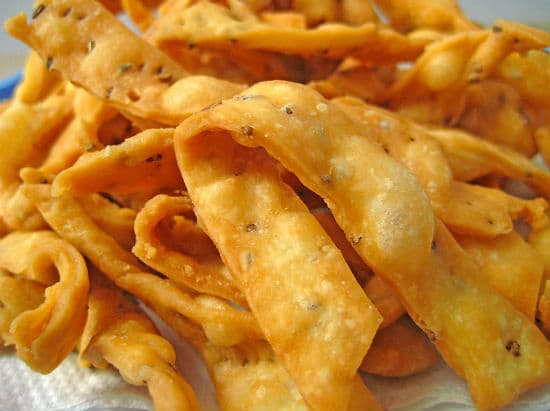 Ingredients:
Wheat Flour (Atta) – 2 cups
Maida (Plain Flour) – 2 cups
Baking Soda – 1 tsp
Cumin Seeds (Jeera) – 2 tsp
Ghee – 3 tbsp
Black Peppercorns – 2 tsp, crushed
Ajwain (Carom Seeds) – 2 tsp
Water – 1 cup
Oil for frying
Salt to taste
Method:
1. Sieve the flours, baking soda and salt.
2. Add all the other ingredients and mix to a firm dough.
3. To a dusted board, roll a medium sized dough into a flat disc.
4. Make a diamond shaped pattern on top of the disc.
5. Heat oil in a kadai and fry them until golden brown.
6. Remove the namak para's and drain the excess oil.
7. Allow it to cool down for a while.
8. Store them in an air tight container.