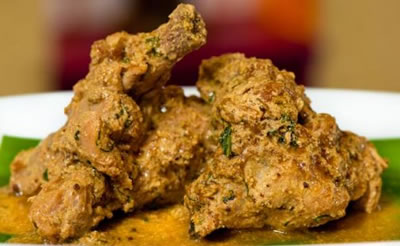 Ingredients:
Lamb – 1 kg, cut into pieces
Water – 5 cups
Aniseed Powder – 5 tsp
Garlic Cloves – 5, crushed
Dry Ginger Powder – 1 tsp
Salt to taste
Milk – 5 1/2 cups
Green Cardamoms – 6, split open
Onion Paste – 1 tsp, fried
Black Peppercorn Powder – 1 tbsp
Clarified Butter – 1 cup
Method:
1. Boil the lamb with aniseed powder, garlic, dry ginger powder and salt till it is tender.
2. Remove the lamb and keep aside. Sieve the stock in another pan and keep aide.
3. In a separate pan, boil the milk with the green cardamoms.
4. Simmer till the milk is reduced to half.
5. Add the fried onion paste, black peppercorn powder and clarified butter. Mix well.
6. Add the lamb and the stock.
7. Stir well and bring the mixture to a boil.
8. Continue to boil for 5-7 minutes and then reduce the heat to low and simmer for another 10 minutes.
9. Serve hot.