A nutritious, tasty and a popular Indo-Chinese dish, this homemade vegetable hot and sour soup keeps you full for hours.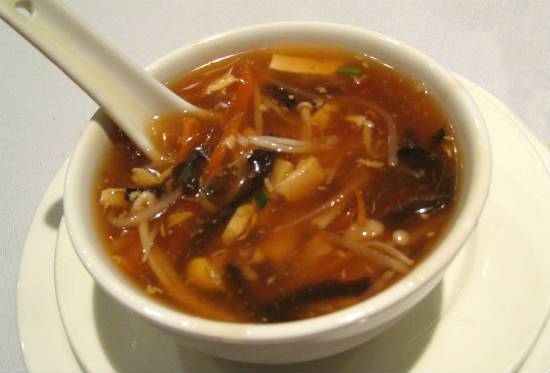 Ingredients:
Mixed Vegetables – 2 cups, chopped (carrots, cabbage, beans, mushrooms, peas etc.)
Spring Onions – 3 tblsp, finely chopped
Onions – 3 tblsp, finely chopped
Ginger Garlic Paste – 1 tsp
Corn Flour – 1 1/4 tblsp
Vegetable Stock – 4 cups
Vinegar – 2 tblsp
Chilli Sauce – 1 tblsp
Soy Sauce – 2 tblsp
Salt as per taste
Black Pepper Powder – 1 tsp
Butter – 2 tblsp
Coriander Leaves – little
Method:
1. Heat butter in a pan over medium flame.
2. Add the vegetables, spring onions, onions, ginger garlic paste and saute for 2 to 3 minutes.
3. Add the corn flour and stir well.
4. Pour the vegetable stock and stir.
5. Add the chilli sauce, soy sauce, vinegar, salt and pepper powder.
6. Mix well and bring to a boil.
7. Pour into individual soup bowls.
8. Garnish with coriander leaves and serve at once.
Subscribe to our Newsletter
Receive the latest recipes & kitchen tips !