For a quintessential Italian, pizzas are never passe, just like the paratha for an Indian. What if you could create a fusion that celebrates the taste of both the cuisines. The Pizza Paratha recipe is extremely simple to make and begins with making the paratha dough in the usual way. The homemade pizza sauce rates well beyond the store bought one and can easily be stored the fridge for upto a week. The stuffing is pretty open-ended ranging from simple fresh vegetables to some leftover chicken. In this recipe, I've use some simple stuffing available at all times.
This Pizza Paratha recipe can break the monotony of a routine weeknight dinner or feature in the week's lunch box menu and can knock some surprises with your weekend party guests.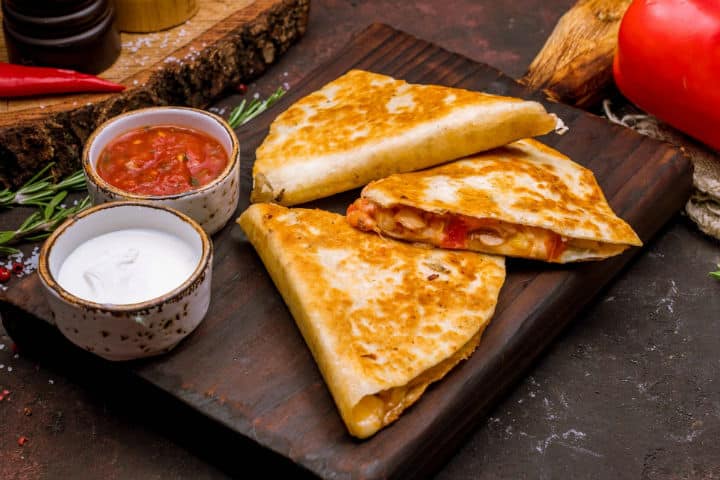 Ingredients:
Mixed vegetables – 1/2 cup finely diced and sauteed (Onion, capsicum, sweet corn, mushroom, olives)
Whole Wheat Flour – 1 cup
Pizza Sauce – 1/4 cup
Mozzarella or Pizza Cheese – 1/4 cup
Chilli Flakes – 1 1/4 tsp
Oregano – 1 1/4 tsp
Ingredients for Pizza Sauce :
Olive oil – 2 tblsp
Garlic, finely chopped – 5 cloves
Ripe Tomatoes – 2
Red Chilli Powder – 1 tsp
Tomato ketchup – 1 cup
Oregano – 1 tsp
Chilli Flakes – 1 tblsp
Salt to Taste
Method:
Take the whole wheat flour in a wide bowl and add some salt to it.
Knead it to a soft dough with required water.
Apply little oil on top, cover and rest it for a while.
To make the pizza sauce, heat a pan under medium flame.
Add water and boil the tomatoes and peel the outer skin.
Grind the tomatoes to smooth puree.
Take a pan and heat the olive oil.
Add the finely chopped garlic, saute it for a few seconds.
Add the tomato puree and cook till the raw smell disappears, 4-5 minutes.
Add the tomato ketchup, oregano, chilli flakes and salt to taste.
Cook until the oil is separated and floats on top.
Divide the dough and cooked vegetables into 4 equal portions. Drain any water content from the vegetables.
Roll out a portion of the dough to medium thickness and spread around 2 tbsp. pizza sauce over it, leaving some space at the edges.
Add the required vegetables on one side, cheese, chilli flakes, oregano.
Fold over and seal the paratha edges by dabbing water with your fingertips.
Heat a tawa and grease it with oil or butter.
Cook the stuffed paratha's on both sides until the cheese is melted and a nice aroma emerges.
Remove from flame and serve hot.
Subscribe to our Newsletter
Receive the latest recipes & kitchen tips !