Cabbage Manchurian is a delicious Indo Chinese appetizer starter that is sweet, crunchy and spicy. While most people know only the Gobi Manchurian, this is also a popular manchurian dish from the Chinese cuisine. In some places, this is also called as Chinese Pakoda. To make this cabbage manchurian, you only need minimal ingredients and it can be made in really quick time. If you are planning to make this in advance, add the manchurian balls to the gravy a few minutes you are ready to serve.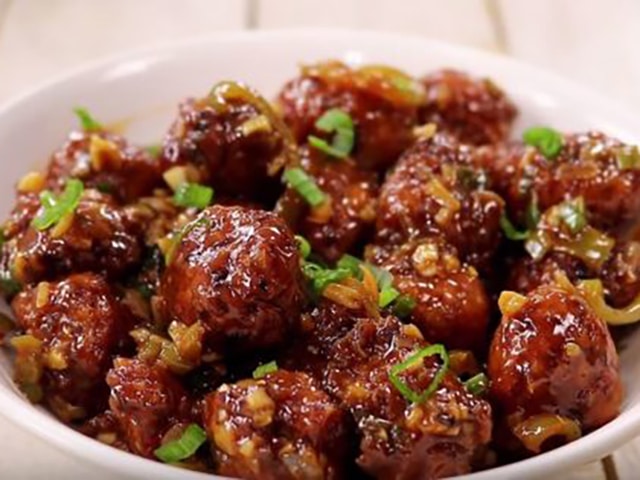 Ingredients:
Onion – 1, Finely Chopped
Ginger – 1 tsp, Finely Chopped
Garlic – 1 tsp, Finely Chopped
Tomato Ketchup – 1 tblsp
Chilli Sauce – 1 tblsp
Soy Sauce – 1 tsp
Corn Flour -1 tblsp
Water – 1/2 cup
Vinegar – 1 tsp
For Manchurian Balls :
Carrot – 1 cup, Grated
Cabbage – 2 cups, Grated
Ginger Paste – 1 tsp
Garlic Paste – 1 tsp
Pepper Powder – 1 tsp
Red Chilli Powder – 1 tsp
Soy Sauce – 1 tsp
Salt to Taste
Maida Flour – 5 tblsp
Corn starch – 3 tblsp
Oil for deep frying
Spring Onions – for decoration
Method:
Take a large bowl, add the grated carrots, cabbage, ginger garlic paste, pepper powder, chilli powder, soy sauce. salt. maida and corn starch.
Mix thoroughly without squeezing the water from the ingredients.
If the mixture is wet, add some more maida and corn starch to it.
Make small balls using the mixture.
Heat oil in a kadai for deep frying.
Fry the balls until golden brown and crisp.
Remove the excess oil on tissue.
Keep the fried balls separately.
Mix the corn flour with water and mix well.
Heat oil in a kadai and add finely chopped onions and ginger garlic paste.
Fry until the raw smell is disappeared.
Add the tomato ketchup, chilli sauce and say sauce to it.
Add the corn flour mixture,vinegar and mix well.
Add the fried Manchurian balls to it and mix.
Lastly sprinkle the chopped spring onions on top.
Serve hot.
Subscribe to our Newsletter
Receive the latest recipes & kitchen tips !