Shahi Chicken Korma which is also known as Shahi Chicken is basically a side dish that comes with thick gravy. This delicious royal dish was a part of Mughal cuisine in the 16th century before British era. At that period of time, the royal cook Mir Bakawal used to cook this dish in the royal kitchen of Emperor Akbar.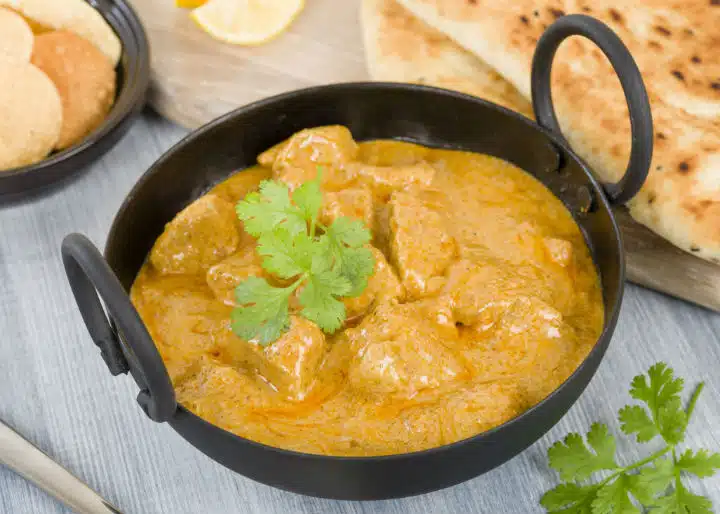 Many ingredients and flavors are used in this authentic dish and you need to follow a special process to make it. Every Indian food recipe has its own history just like this Shahi Chicken Korma.
Generally, it is cooked over a low flame. Cooking in low flame gives the spices and herbs a better taste and also imparts a natural aroma of rich flavors.
Also, most of the nutrients are retained as this recipe cooked in low flame. Moreover, this mouthwatering dish is nutritive as it is rich in 700 calories, proteins, and carbohydrates.
The ingredients like almonds, cashew nuts, coconut, melon seeds, etc. which are used to make the masala paste are packed with nutrients. These ingredients also add an absolute rich flavor to this royal recipe.
Shahi Chicken Korma is a grand dish and you can present this lovely dish as the main course on your dining table. You can find the Shahi Chicken in most of the non-vegetarian restaurants but homemade Chicken Korma is always fresher and healthier. You can also add it to the menu of your parties or celebrations and the guests will reward you with praise.
There is no doubt that food lovers will love to experience its perfect blend of flavors. Also, this is an ideal recipe for those who are always in search of recipes that could provide a treat to their taste buds.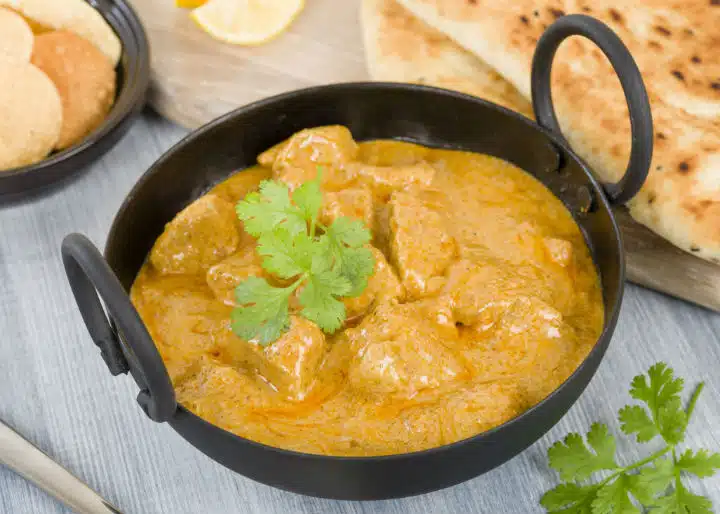 Print Recipe
Shahi Chicken Korma

Recipe

Chicken cooked in a rich, creamy sauce made with nuts and served as a side with rice, pulao or naan.
Ingredients for
Shahi Chicken Korma
Ingredients
250

g

Chicken

cubed or curry cut pieces
For the marination:
1/2

tsp

Red Chilli Powder

1/4

tsp

Turmeric Powder

1/8

tsp

Garam Masala Powder

1

tsp

Ginger Garlic Paste

Salt

as per taste
For the masala paste:
5

Almonds

soaked in warm water for 1 hour and peeled

5

Cashew nuts

soaked in warm water for 1 hour

1

tsp

Melon Seeds

boiled

3

tsp

Coconut

grated
For the gravy:
2

tbsp

Ghee

1

Bay Leaf

1/4

tsp

Fennel Seeds/ Saunf

1/4

tsp

Cumin Seeds

1/4

tsp

Shahi Jeera

2

Onions

big, sliced

1

Tomato

medium, chopped

1

tsp

Ginger Garlic Paste

1/2

tsp

Red Chilli Powder

1/8

tsp

Turmeric Powder

1/2

tsp

Coriadner Powder

1/4

tsp

Garam Masala Powder

1

tsp

Kasoori Methi

crushed

1/2

Cup

Plain Yogurt

beaten

1/2

Cup

Water

Salt

as per taste
How to make
Shahi Chicken Korma
Method:
Mix all the marinade ingredients in a large bowl.

Add the chicken pieces and mix until well coated.

Keep aside for 30 minutes.

Grind the ingredients given for the masala to a smooth paste adding a little water if required.

Heat ghee in a kadhai over medium flame.

Add the cumin seeds, saunf, shah jeera and bay leaf.

After 10 seconds, add the onions, ginger garlic paste and saute until onions become light brown.

Add the red chilli powder, coriander seeds, turmeric powder and mix well.

Add the marinated chicken pieces.

Mix well and cover the pan with a lid.

Cook for 10 minutes over low flame, stirring from time to time.

Add the tomatoes, mix well and cook for 5 minutes.

Add the ground paste and mix well.

Cover the pan with a lid and cook for another 5 minutes.

Add the yogurt and salt.

Mix well.

Pour water and cook until the gravy becomes thick and the fats starts to float on top.

Add the garam masala powder, kasoori methi and mix well. Simmer for 1 minute.

Garnish with coriander leaves.

Serve with roti, paratha or pulao.