A very popular Chinese sweet and spicy chicken dish, the General Tso's Chicken is a supposedly named after the Chinese general named General Tso Tsung-tang from the Qing dynasty. Best served with hot, steaming rice.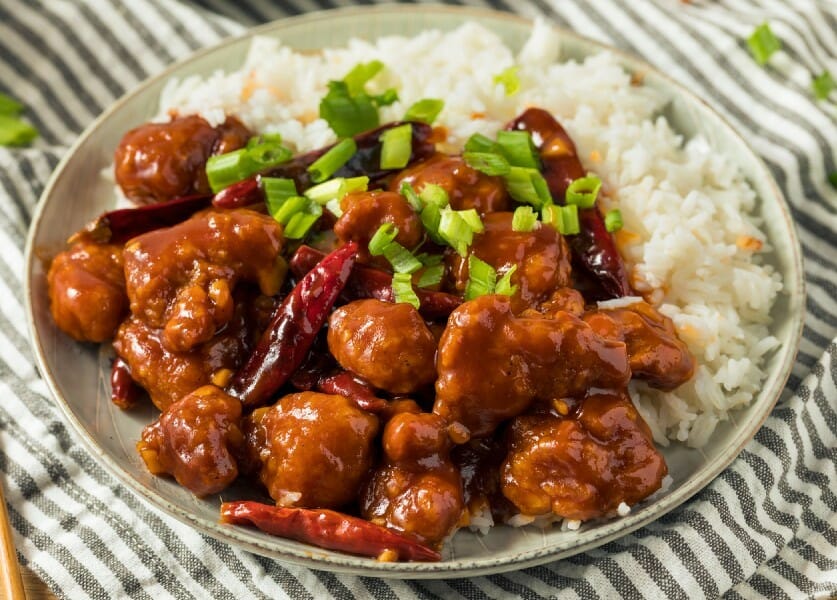 Ingredients:
Chicken Breasts – 500 gms, skinless, boneless, chopped
Chinese Rice Wine – 1 1/4 tblsp
Soy Sauce – 1 tblsp
Eggs – 2, lightly beaten
White Pepper Powder – a pinch
Cornstarch – 1/4 cup + 1 tblsp
Oil as required
Garlic – 2 cloves, minced
Spring Onions – 8 to 10, chopped (reserve some for garnish)
Dry Red Chillies – 6 to 8 (adjust as per taste)
For the Sauce:
Dark Soy Sauce – 2 tblsp
White Vinegar – 1 tblsp
Chinese Rice Wine – 2 tsp
Sugar – 1 tblsp
Chicken Stock – 3 tblsp
Ginger – 1 tblsp, minced
Garlic – 2 cloves, minced
Cornstarch – 2 tsp
Method:
1. Mix the Chinese rice wine, soy sauce, eggs, corn starch and white pepper powder in a bowl.
2. Add the chicken pieces and toss until evenly coated.
3. Mix all the ingredients for sauce and keep aside.
4. Heat oil in a deep frying pan over medium flame.
5. Fry the marinated chicken pieces for 3 to 4 minutes.
6. Remove and drain excess oil.
7. Heat 2 tblsp of oil in another pan.
8. Saute the garlic, dry red chillies and spring onions for a minute or two.
9. Add the fried chicken and stir-fry for a minute.
10. Pour the sauce and cook for a minute or until the chicken pieces are evenly coated.
11. Remove and transfer to a serving bowl.
12. Garnish with spring onions.
13. Serve with hot rice.
Subscribe to our Newsletter
Receive the latest recipes & kitchen tips !