Also known as Anda Bhurji, this delicious Indian dish is quick to make and makes a healthy breakfast to start your day.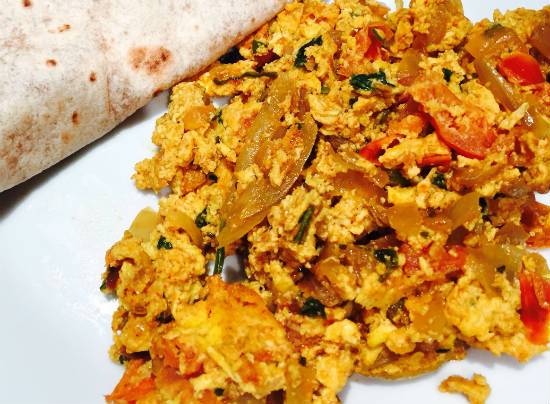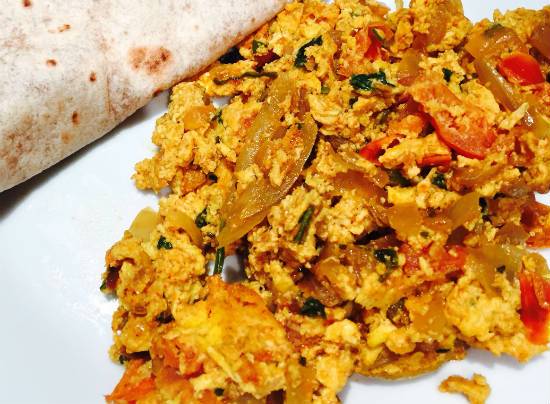 Ingredients:
Eggs – 2
Onion – 1, finely chopped
Tomato – 1, finely chopped
Turmeric Powder – a pinch
Oil – 2 tsp
Green Chilli – 1, chopped
Red Chilli Powder – 1/4 tsp
Coriander Leaves – little, chopped
Salt as per taste
Optional:
Capsicum – 1/4 cup, chopped
Peas – 2 tblsp, boiled
Method:
1. Break the eggs into a bowl.
2. Add a small pinch of salt and beat lightly.
3. Heat oil in a pan over medium flame.
4. Saute the onions for 2 to 3 minutes.
5. Add the green chillies, turmeric powder, red chilli powder and stir well.
6. Add the tomatoes, pinch of salt and stir to mix.
7. Cook for a minute or two.
8. Pour the eggs into the pan and allow it to set, about 30 seconds.
9. Stir well for 2 minutes or until well scrambled.
10. Garnish with coriander leaves.
11. Serve at once with toasted bread, roti or chapati.