A classic and traditional Parsi dish ideal for weekday breakfast or sunday brunch.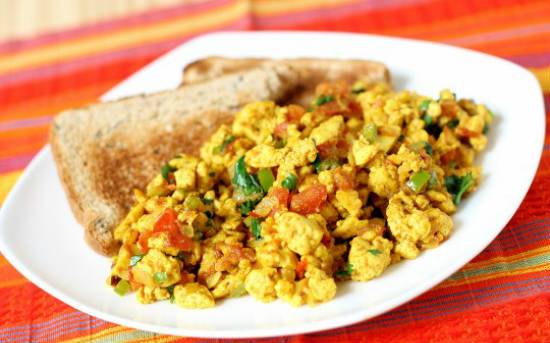 Ingredients:
Eggs – 4 to 5
Butter – 2 tsp
Tomato – 1, chopped, seeds removed
Onions – 1/4 cup, finely chopped
Green Chilli – 1 tsp, finely chopped
Garlic – 1 clove, minced
Garam Masala Powder – a pinch
Cumin Powder – a pinch
Turmeric Powder – a pinch
Coriander Leaves – few, chopped
Method:
1. Heat butter in a frying pan over medium flame.
2. Saute the onions, garlic and green chillies for 3 to 4 minutes.
3. Add the masala powders and stir-fry for a minute.
4. Add the tomatoes and cook for another minute.
5. Break the eggs and whisk them lightly.
6. Add this to the pan and reduce flame to low.
7. Stir to scramble the eggs and cook for a minute.
8. Remove the pan from the flame and keep stirring until the eggs are set.
9. Garnish with the coriander leaves.
10. Serve with toasted bread.