Karasev (or Kara Sev) is a popular South Indian savoury snack made during festivals.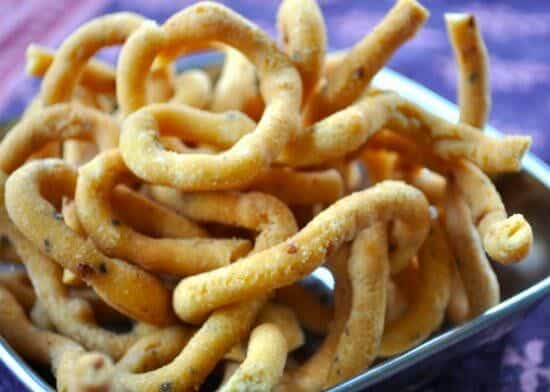 Ingredients:
Rice Flour – 1 cup
Gram Flour – 4 cups
Black Pepper Powder (or Red Chilli Powder) – 2 tsp
Salt – 2 tsp
Asafoetida Powder – 1 tsp
Butter – 50 gms
White Sesame Seeds – 1 1/2 tblsp
Oil – 500 ml
Water as required

Method:
1. Sieve the rice flour and gram separately.
2. Combine together in a bowl.
3. Add salt, pepper powder and asafoetida powder.
4. Mix well.
5. Add sesame seeds and butter.
6. Sprinkle a little water and mix well to a thick dough.
7. Heat oil in a deep frying pan over medium flame.
8. Rub the dough on a kara sev plate over hot oil.
9. Fry till light golden brown and remove.
10. Drain excess oil.
11. Store in an airtight container.
12. Serve as a snack.
Note:
Kara Sev plate can be bought from most utensil shops.
Please be careful while rubbing the dough on hot oil.