A delicious and popular Gujarati snack made with green peas and served with chutney or sauce. Ideal for any parties or family get-together, they also make a great evening/teatime snack.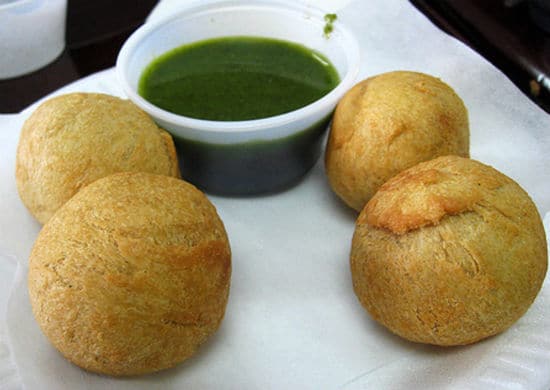 Ingredients:
Green Peas – 250 gms, shelled
Ginger – 1 inch piece, peeled
Green Chilli – 1, finely chopped
Mustard Seeds – 1/2 tsp
Cinnamon Powder – 2/3 tsp
Garam Masala Powder – 2/3 tsp
Red Chilli Powder – 1/4 tsp
Turmeric Powder – 1/4 tsp
Salt as per taste
Vegetable or Sunflower Oil
For the pastry:
Maida – 1 cup + 1 tblsp
Salt – 1/4 tsp
Vegetable or Sunflower Oil – 3/4 tblsp
Hot Water – 1/3 tblsp
Method:
1. Grind the ginger and green chillies to a fine paste.
2. Grind the peas coarsely and keep aside.
3. Heat 1 to 2 tblsp of oil in a pan over medium flame.
4. Fry the mustard seeds until it starts to crackle.
5. Add the ground ginger and green chilli paste.
6. Stir-fry for a minute.
7. Add the peas and cook for 3 to 4 minutes.
8. Add the garam masala powder, cinnamon powder, turmeric powder, salt and red chilli powder.
9. Mix well and cook until all moisture has evaporated or for a minute or two.
10. Remove and keep this aside.
11. To make the pasty, mix all the ingredients and mix until the dough is firm.
12. Using greased hands, pinch small balls of the dough and roll them into small circles, roughly 4 inches in diameter.
13. Add some of the green peas filling and fold the edges.
14. Seal it using little water.
15. If desired, you can roll the kachori into a ball and remove any excess dough.
16. Heat oil in a deep frying pan over medium flame.
17. Gently slide in the prepared kachoris, one or two per batch, and deep fry until golden brown.
18. Remove and drain excess oil.
19. Serve with mint chutney or ketchup.