Zucchinis are a summer squash variety and contains Vitamin A, Potassium, Folate and are low in calories. A simple and addictive pickle with Zucchinis.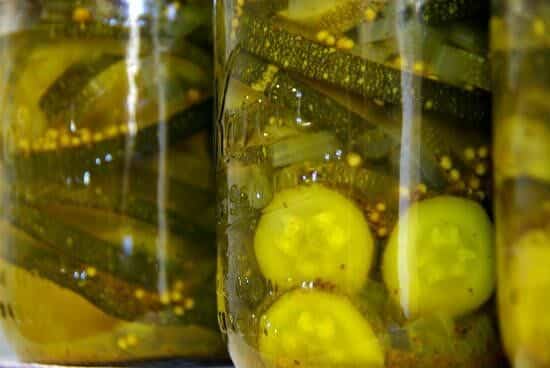 Ingredients:
Zucchini – 4
Salt as per taste
Olive Oil as required
For the Marinade:
Olive Oil – 1/2 cup
Ginger – 1 tblsp, grated
Cumin Powder – 2 tsp
Red Chilli Paste – 1 tsp
Honey – 1/4 cup
Lemon Juice – 1/2 cup
Garlic – 4 to 6 cloves
Salt as per taste
Coriander Leaves – 1/4 cup, chopped
Parsley – 1/4 cup, chopped
Method:
1. Slice the zucchinis and sprinkle some salt.
2. Keep aside for 45 to 60 minutes.
3. Rinse well and pat dry.
4. Heat olive oil in a pan.
5. Add the zucchinis and fry until golden.
6. Remove and drain excess oil. Keep aside.
7. Heat olive oil pan for the marinade in a pan.
8. Chop the garlic and add to the pan.
9. Saute for 30 seconds and add the ginger, cumin powder, honey and lemon juice.
10. Simmer for couple of minutes until it has a syrupy consistency.
11. Add salt and red chilli paste.
12. Mix well.
13. Add the zucchinis and simmer for a minute or two.
14. Remove from flame and cool.
15. Add the coriander leaves and parsley.
16. Transfer to a clear, sterilized jar and cover with a lid.
17. Keep it in a cool place for 6 to 8 hours before using.