Pachai Karamani (or Yard Long Beans or simply Long Beans) is a good source of Protein, Vitamin C, Calcium, Potassium and many other nutrients.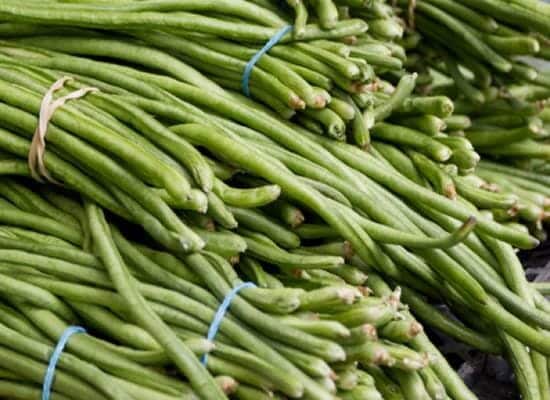 Ingredients:
Pachai Karamani (Long Beans) – 1 bunch, washed, chopped into 3/4 inch pieces
Sambar Onions (Shallots) – 10, chopped
Garlic – 3 cloves, crushed
Tomato – 1, chopped
Red Chilli Powder – 1 tsp
Turmeric Powder – 1/4 tsp
Salt as per taste
Mustard Seeds – 1 tsp
Saunf – 1 tsp
Curry Leaves – few
Oil – 3 tsp
Method:
1. Heat oil in a pan over medium flame.
2. Add the mustard seeeds, curry leaves and saunf.
3. Fry for 30 seconds.
4. Add onions and garlic.
5. Saute for a minute.
6. Add the tomatoes and cook until mushy.
7. Add red chilli powder, turmeric powder and beans.
8. Stir well and pour 1/4 cup of water.
9. Add salt and stir again.
10. Cover and cook for 5 minutes, stirring from time to time.
11. Remove from flame.
12. Serve as a sidedish with rice.
Subscribe to our Newsletter
Receive the latest recipes & kitchen tips !