A quick and easy recipe that is ideal for school or office lunch or for a quick evening snack.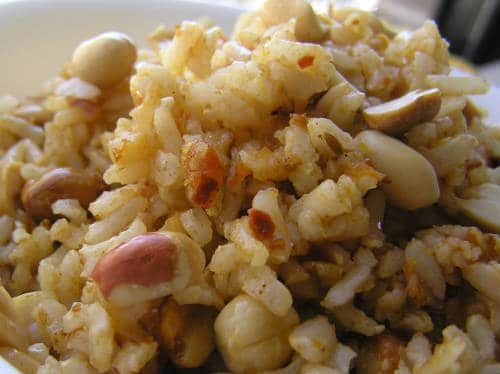 Ingredients:
Raw Peanuts – 2 cups
Dry Red Chillies – 10
Urad Dal – 1/2 cup
Bengal Gram Dal – 1/2 cup
Asafoetida Powder – 1/2 tsp
Rice – 2 to 3 cups, cooked
Salt as per taste
For Tempering:
Oil – 2 tsp
Mustard Seeds – 1/2 tsp
Urad Dal – 1 tsp
Bengal Gram Dal – 1 tsp
Method:
1. Dry roast the peanuts and keep aside.
2. Dry roast the urad dal, bengal gram dal, red chillies and asafoetida powder.
3. Remove and cool. Then grind them to a fine powder.
4. Add the peanuts and grind coarsely.
5. Mix this with the cooked rice in a large bowl.
6. Heat oil for tempering and fry the tempering ingredients.
7. Add this to the rice and mix well.
8. Serve.