A simple dish where the lamb pieces are marinated in yogurt and cooked. Serve as a starter or with naan.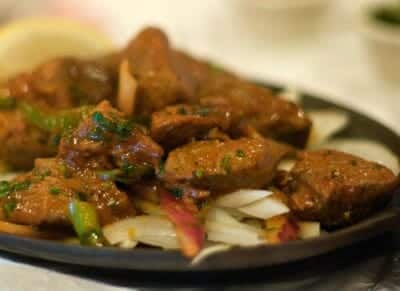 Ingredients:
Lamb – 200 gms, skinless, boneless, chopped
Yogurt – 1/3 cup + 3/4 tblsp
Ginger – 1 tblsp, peeled
Garlic – 1 tblsp, peeled
Green Chillies – 2
Soy Sauce – 1 tsp
Salt – 1/2 tsp
Tomato Puree – 1 tsp
Red Chilli Powder – 1/2 tsp
Turmeric Powder – 1/2 tsp
Red Food Colour – 1/2 tsp (optional)
Lemon Juice – 1/2 tblsp
Oil – 2 tblsp
Water – 1/4 cup + 1 tblsp
Method:
1. Combine the garlic, ginger, green chillies, yogurt, soy sauce, salt, tomato puree, red chilli powder, food colour and lemon in a blender.
2. Blend to a smooth paste and transfer to a large bowl.
3. Add the lamb pieces and mix well until evenly coated.
4. Keep aside for 8 hours or overnight to marinate.
5. Heat oil in a pan over medium flame.
6. Add the marinated lamb pieces with the marinade and cook for 10 minutes.
7. Pour water and cover the pan with a lid.
8. Reduce flame and simmer for 30 to 40 minutes, stirring frequently.
9. Remove the lid and stir well.
10. Cook for another 2 to 4 minutes or until the water has evaporated fully.
11. Transfer to a serving dish.
12. Serve hot with onion rings, lemon wedges and salad.
Tip: If you want a little gravy, remove before the water has evaporated fully.