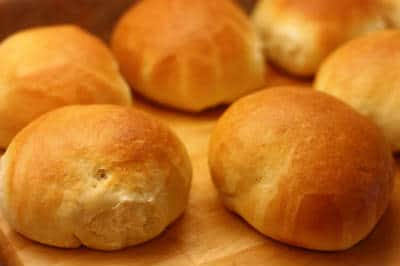 Ingredients:
Plain Buns (or Burger Buns) – 6, sliced into halves
Cheese – 1/2 cup, grated
Paneer – 1/2 cup, grated
Cabbage – 1 tsp, grated
Carrot – 1 tsp, grated
Green Chillies – 2, finely chopped
Coriander Leaves – little, finely chopped
Butter – 2 tblsp
Black Pepper Powder – little
Salt as per taste
Method:
1. Take the bottom halves of the buns and scrap away the insides so as to make it into a cup. Ensure the outer layers are not cut.
2. Mix paneer, cheese, green chillies, carrot, cabbage, coriander leaves, salt and pepper powder in a bowl.
3. Fill the cup with 1 tblsp of the paneer-cheese mixture.
4. Cover with the other half.
5. Heat a tawa over medium flame.
6. Place the buns and apply butter to the sides.
7. Cook on both sides for a minute each and remove.
8. Serve at once chutney or sauce.