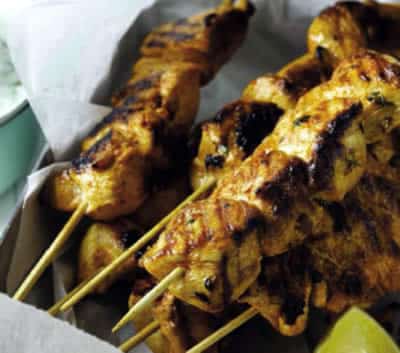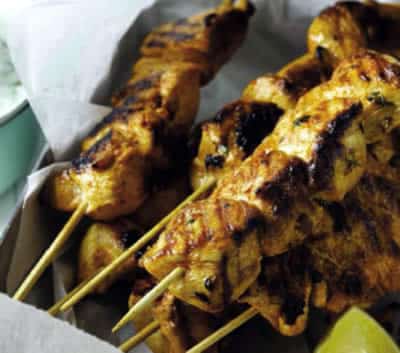 Ingredients:
Chicken Breasts – 3, chopped into bite-sized pieces
Salt as per taste
Black Pepper Powder as per taste
Wooden Skewers – 3 to 4, soaked in water for 30 minutes
For the marinade:
Juice of 1/2 Lemon
Garlic Paste – 1 tsp
Paprika – 1 tsp
Thyme – 1 1/2 tsp
Extra-Virgin Olive Oil – 2 tblsp
Method:
1. Mix all the marinade ingredients in a large bowl.
2. Add the chicken pieces and mix well until evenly coated.
3. Cover the bowl with cling film and keep it in the fridge for 8 hours.
4. Remove the bowl from the fridge and discard the cling film.
5. Sprinkle salt and pepper powder.
6. Skewer the marinated chicken pieces.
7. Heat a griddle pan over medium flame.
8. Grill the chicken kebabs for 20 minutes, turning from time to time to cook evenly on all sides.
9. Remove and transfer to a serving plate.
10. Serve with mint chutney and lemon wedges.