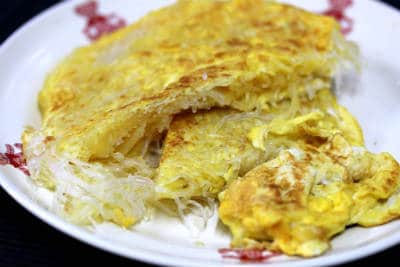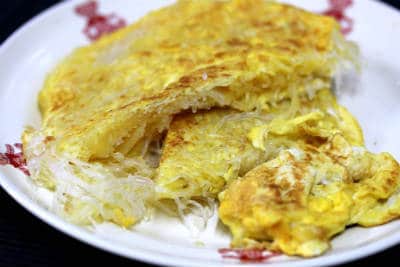 Ingredients:
Eggs – 2, large
Vermicelli – 100 gms, dried
Butter – 4 tblsp
Cardamom Powder – a pinch
Ginger Powder – a pinch
Cinnamon Powder – a pinch
Salt as per taste
Saffron Strands – a small pinch, mixed with 1 tblsp milk
Method:
1. Heat 2 tblsp butter in a pan over medium flame.
2. Add the cooked vermicelli, cardamom powder, ginger powder, cinnamon powder and saffron.
3. Stir well and reduce flame to low.
4. Cover the pan with a lid and cook for 6 to 8 minutes.
5. Remove and keep warm.
6. Heat the remaining butter in a separate pan.
7. Break the eggs and whisk well with a pinch of salt.
8. Add the vermicelli and mix well.
8. Pour the egg mixture into the pan and cook on both sides, until set.
9. Transfer the omelette to a serving plate.
10. Serve warm.