Tacos are a popular Mexican fast food/snack.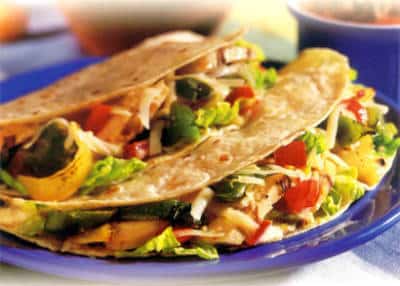 Ingredients:
Black Beans – 200 gms, drained, rinsed well
Green Capsicum – 1, small, finely chopped
Avocado – 1, small, sliced or chopped (optional)
Water – 1/2 cup
Uncooked Brown Rice – 1/2 cup
Flour Tortillas – 4, readymade (You can also use Roti/Chapati)
Cheddar Cheese – 1/2 cup, shredded
Salsa – 2 to 3 tblsp (available in most major stores)
Method:
1. Add the black beans, salsa, avocado and capsicum to a pan over medium flame.
2. Pour water and bring to a boil.
3. Add rice and reduce flame to low.
4. Cover the pan with a lid.
5. Simmer for 3 to 5 minutes.
6. Remove the pan from flame and keep aside for 5 minutes.
7. Warm the tortillas and spread 2 tblsp of the bean mixture evenly.
8. Sprinkle cheese on top.
9. Fold the tortillas in half.
10. Serve at once.
Tip: You can also add chopped tomatoes, onions and cucumber. If you want a meat version, add cooked chicken, beef or any other meat.