Probably one of the most popular Murukku varieties across India, Butter Murukku is a tasty and crunchy snack from Tamil Nadu. Often served as a snack, they are made during festive occasions, weddings or even as a simple everyday snack.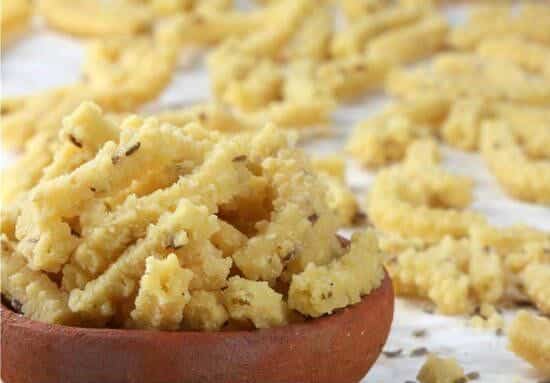 Ingredients:
Rice Flour – 4 cups
Urad Dal – 1 cup
Butter – 2 tblsp, unsalted
White Sesame Seeds – 2 tsp
Cumin Seeds – 2 tsp
Asafoetida Powder – 1/4 tsp
Oil – 500 ml
Salt as per taste
Method:
1. Dry roast the urad dal till light golden and grind to a fine powder.
2. Combine the dal powder, rice flour, butter, sesame seeds, cumin seeds, salt and asafoetida powder.
3. Mix well to a thick, pliable dough.
4. Grease a murukku maker.
5. Make balls of the dough and add to the murukku maker.
6. Heat oil in a deep frying pan over medium flame.
7. Press the murukku maker over the hot oil and fry till golden brown.
8. Remove and drain excess oil.
9. Store in an airtight container.
10. Serve.
image credit: Grand Sweets