Potato Bonda (or also known as Aloo Bonda) is a very popular teatime/evening snack and also a fav. street food snack, especially in South India. It is simple to make and is a favourite with the kids as well. Best served with chutney or sauce.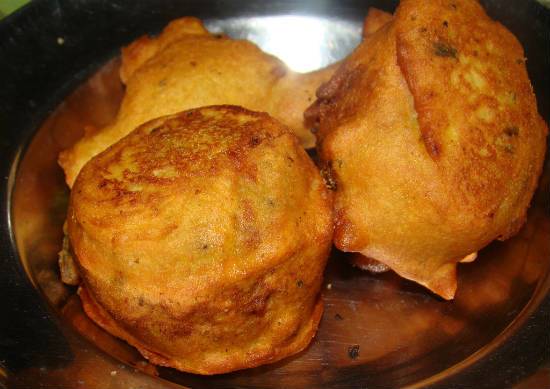 Ingredients:
Potatoes – 5 to 6
Gram Flour – 2 cups
Rice Flour – 1 cup
Ginger – 2 tsp, finely chopped
Green Chillies – 2 to 3, depending on size, finely chopped
Onions – 2 cups, finely chopped
Red Chilli Powder – 2 tsp
Juice of 1 Lemon
Oil for frying
Salt as per taste
Method:
1. Boil, peel and mash the potatoes.
2. Heat little oil in a pan over medium flame.
3. Saute the onions, ginger and green chillies until onions turn light brown.
4. Add salt and red chilli powder.
5. Stir well and add the potatoes.
6. Add lemon juice and mix well.
7. Remove from flame and keep aside to cool.
8. Mix the rice flour and gram flour in a large bowl.
9. Add enough water, salt and mix well to a thick, pourable batter.
10. When the potato filling is cool enough to handle, make small balls of the mixture.
11. Heat oil in a large frying pan over medium flame.
12. Dip the potato balls in the batter and carefully add to the hot oil.
13. Fry until golden brown and remove.
14. Drain excess oil.
15. Serve hot with chutney or sauce.