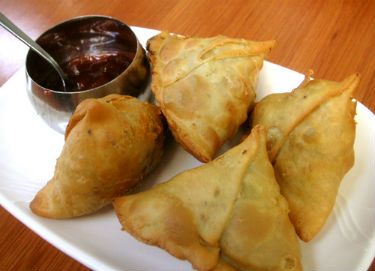 Ingredients:
Maida – 1 cup
Moong Dal – 1/4 cup, boiled
Onions – 1/2 cup, finely chopped
Methi (Fenugreek Leaves) – half bunch, cleaned, chopped
Butter – 2 tblsp
Baking Powder – 1/4 tsp
Turmeric Powder – 1/2 tsp
Saunf – 1/2 tsp
Ginger Paste – 1/2 tsp
Green Chilli Paste – 1/2 tsp
Dry Mango Powder – 1 tsp
Coriander Powder – 1 tsp
Garam Masala Powder – 1 tsp
Salt as per taste
Method:
1. Combine the methi, cooked dal and salt in a bowl.
2. Mix well and keep aside.
3. Heat oil in a pan over medium flame.
4. Fry the saunf, ginger paste, green chillies and onions for 2 minutes.
5. Add turmeric powder, coriander powder, garam masala powder and dry mango powder.
6. Stir to mix well and add the methi-dal mixture.
7. Cook for a minute and remove.
8. Add baking powder, butter and salt to maida.
9. Pour enough water and knead well to a thick dough.
10. Keep aside for 30 minutes.
11. Make small balls of the mixture and roll them into small puris.
12. Add a spoonful (or more) of the filling to the centre and fold into a triangle.
13. Seal the edges with little water and keep aside.
14. Heat oil in a deep frying pan over medium flame.
15. Fry the prepared samosa till light golden brown.
16. Remove and drain excess oil.
17. Serve with chutney or sauce.