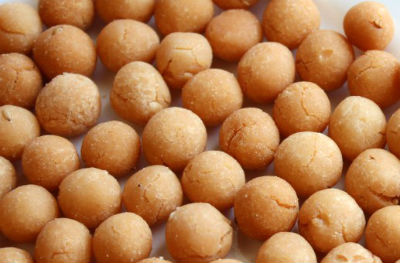 Ingredients:
Puzhungal Arisi (Boiled Rice) – 4 cups, soaked in water for 4 hours
Urad Dal – 1/2 cup
Roasted Gram – 2 tblsp
Butter – 100 gms
Salt – 1 1/2 tsp
Black Pepper Powder – 1 1/2 tsp
Asafoetida Powder – 1 tblsp
Coconut – 1/2, grated
Oil – 500 ml
Method:
1. Grind the rice coarsely and keep aside.
2. Dry roast the dal till golden and grind to a smooth powder.
3. Combine the rice, dal, roasted gram, coconut, pepper powder, salt and asafoetida powder in a bowl.
4. Add butter and little water (if required).
5. Knead to a thick, pliable dough.
6. Make small balls of the dough and keep them on a clean, white cloth.
7. Allow them to dry for 15 to 30 minutes under the fan. Ensure they do not become too dry.
8. Heat oil in a frying pan over medium flame.
9. Fry the prepared balls till golden brown and remove.
10. Drain excess oil and store in an airtight container.
11. To check if the seedai has been cooked properly, break one of the fried seedai and check if the insides are still doughy. If they are, then they are not cooked.