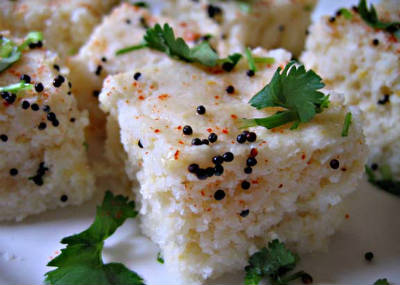 Ingredients:
Wheat Rava (Godhuma Rava) – 1 cup
Green Chilli – 1
Ginger – 1/4 inch piece, peeled
COriander Leaves – 1 tblsp, chopped
Sour Curd – 1 tblsp
Plain Eno Fruit Salt – a pinch
Coconut – 1 tblsp, grated
Lemon Juice – 1/2 tsp
Turmeric Powder – a pinch
Mustard Seeds – 1/2 tsp
Cumin Seeds – 1/2 tsp
Asafoetida Powder – a pinch
Sugar – 1/2 tsp, powdered
Oil as required
Salt as per taste
Method:
1. Heat a little oil in a pan.
2. Roast the wheat rava till golden and remove.
3. Grind together the ginger and green chilli to a paste.
4. Combine the roasted wheat rava with salt, ginger-green chilli paste, coriander leaves, eno salt, turmeric powder, asafoetida powder, cumin seeds, sour curd and little water.
5. Mix well to a thick batter (similar to an idli batter).
6. Keep aside for 30 to 40 minutes.
7. Grease a small 1 inch deep plate and pour the batter into it.
8. Spread evenly and steam cook for 15 to 20 minutes.
9. Heat little oil in a frying pan.
10. Fry the mustard seeds and pour over the prepared dhokla.
11. Mix the sugar with lemon juice and pour over this.
12. Cut into slices and serve at once.
image credit: 365daysveg.wordpress.com