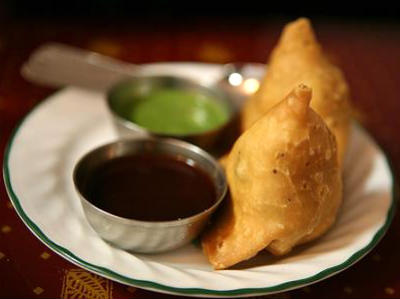 Ingredients:
Wheat Flour – 3/4 cup
Maida – 1/4 cup
Butter – 2 tsp
Green Chilli – 1, finely chopped
Ginger – a small piece, finely chopped
Potatoes – 2, boiled, peeled, mashed
Green Peas – 1 tblsp, soaked in water, drained
Red Chilli Powder – 1/2 tsp
Turmeric Powder – 1/4 tsp
Coriander Leaves – 1 tblsp, chopped
Garam Masala Powder – 1/2 tsp
Chaat Masala Powder – 1/2 tsp
Dry Mango Powder (Amchur) – 1/4 tsp
Saunf – 1/2 tsp
Oil as required
Salt as per taste
Method:
1. Combine the wheat flour and maida in a bowl.
2. Add little salt, butter and sprinkle a little water.
3. Knead well to a thick dough and keep aside for 30 minutes.
4. Heat 2 tsp oil in a pan over medium flame.
5. Fry the saunf till golden.
6. Add ginger, green chillies, salt, red chilli powder, turmeric powder, chaat masala powder, garam masala powder and mango powder.
7. Mix well.
8. Add coriander leaves, mashed potatoes and stir well for a minute.
9. Remove the pan from the flame.
10. Make small balls of the mixture and place them on a plate.
11. Make small balls of the dough and flatten them.
12. Place one of the potato balls on the centre and fold over like a samosa.
13. Alternatively, you can shape the dough into a cone and place the potato ball inside. Then fold and seal the edges with little water.
14. Heat oil for frying in a deep pan.
15. Fry the samosas till light golden brown.
16. Remove and drain excess oil.
17. Serve hot with chutney or sauce.