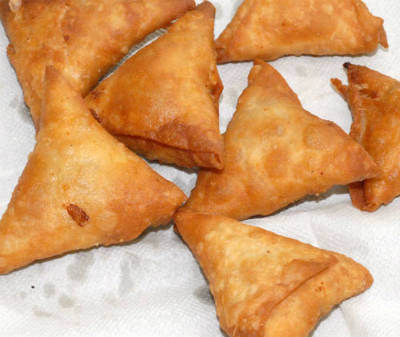 Ingredients:
Maida – 200 gms
Ponnanganni Keerai (Greens) – handful, chopped
Onion – 1, chopped
Cabbage – 4 tsp, grated
Carrot – 2 tsp, grated
Potatoes – 2, boiled, peeled, mashed
Oil – 250 ml
Garam Masala Powder as per taste
Salt as per taste
Method:
1. Add a little water and salt to the maida.
2. Mix well to a thick paste.
3. Heat little oil in a pan.
4. Saute the spinach, onion, cabbage and carrot for a few minutes.
5. Remove and transfer to a bowl.
6. Add the mashed potatoes, salt and garam masala powder.
7. Mix well and make small balls of the mixture.
8. Make small balls of the maida and flatten them.
9. Place a portion of the filling and shape them into a samosa.
10. Heat oil for frying over medium flame.
11. Deep fry the prepared samosas till golden brown and crisp.
12. Remove and drain excess oil.
13. Serve with ketchup or chutney of choice.

Note: Ponnanganni Keerai is called Alternanthera sessilis in English, Ponnagantikura in Telugu, Garundi or Guroo in Hindi, Honagonne in Kannada and Ponnankannikkira in Malayalam.
Note: image is for illustration purposes only and not that of the actual recipe.