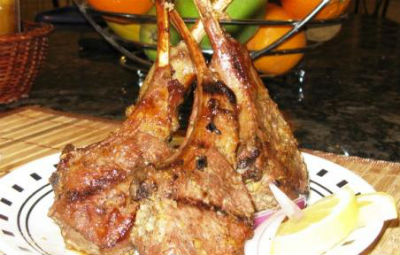 Ingredients:
Lamb Chops – 4, small, trimmed, cleaned
Salt as per taste
Lemon Wedges
For the marinade:
Green Chillies – 1
Garlic – 1 1/2 tblsp, minced
Ginger – 1/4 inch piece, peeled
Coriander Leaves – 1 cup, chopped
Mint Leaves – 1/4 cup, chopped
Garam Masala Powder – 1/2 tsp
Fennel Seeds – 1 tsp, crushed
Plain Yogurt – 1/2 tblsp
Juice of 1/2 Lemon
Method:
1. Combine all the marinade ingredients and grind to a smooth paste.
2. Rub this all over the lamb chops.
3. Cover and keep the chops in the fridge for 8 hours or overnight.
4. Sprinkle salt on the chops and cook on a preheated grill for 2 minutes on each side or until lightly charred.
5. Remove and serve hot with the lemon wedges.
Note: image is for illustration purposes only and not that of the actual recipe.