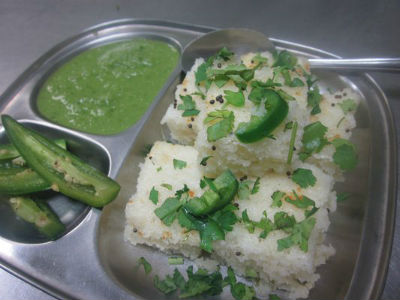 Ingredients:
Rice – 1 cup
Urad Dal – 1/4 cup
Baking Soda – 1/4 tsp
Lemon Juice – 1 tsp
Peppercorns – 1/2 tsp
Cumin Seeds – 1/2 tsp
Red Chilli Powder – 1/2 tsp
Coriander Leaves – few, chopped
Oil – 1/4 cup
Salt as per taste
Method:
1. Soak the dal and rice separately in water and then grind them together.
2. Add salt and mix well like an idli batter.
3. Transfer to a container and cover with a lid.
4. Keep aside for 8 hours or overnight.
5. Dry roast the peppercorns and cumin seeds.
6. Remove and grind to a powder.
7. Grease a plate and keep aside.
8. Add baking soda, lemon juice, red chilli powder, pepper-cumin powder to the batter and mix well.
9. Pour a ladleful of the batter to the greased plate and steam cook till done, like how it is done for an idli.
10. Remove and cut into desired shapes.
11. Garnish with coriander leaves.
12. Serve with coriander chutney.