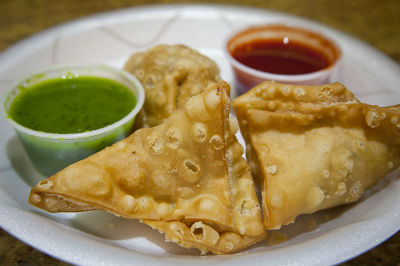 Ingredients:
Pacha Payaru (Whole Moong Dal / Mung Beans) – 1/3 cup, washed, soaked, drained
Water – 1/2 cup
Spinach – 1/2 cup, washed, chopped
Phyllo Pastry Sheets – 3 (available in most major supermarkets)
Ginger – 3/4 tblsp, minced
Green Chilli – 1, small, deseeded, minced
Cumin Seeds – 1/2 tsp
Oil – 1 tblsp
Coriander Powder – 1/2 tblsp
Turmeric Powder – a pinch
Butter – 1 tblsp, melted
Salt as per taste
Egg – 1, small, whisked for glazing (optional)
Method:
1. Heat oil in a large pan over medium flame.
2. Stir-fry the cumin seeds, ginger, green chilli and coriander powder for 30 seconds.
3. Add the whole moong dal, salt and turmeric powder.
4. Cook for a minute and add water.
5. Reduce flame to low and cover the pan with a lid.
6. Cook till the moong dal is soft and water has evaporated fully.
7. Now add the spinach leaves and cook for a minute.
8. Remove and cool.
9. Brush each phyllo sheet with butter and keep them together.
10. Cut them equally lengthwise and each sheet into 6 squares.
11. Cover with a clean, damp cloth.
12. Spoon the filling into the center and brush the edges with the egg.
13. Fold from the right corner to make a triangle.
14. Keep aside and do the same for the others.
15. Bake these in a preheated oven at 175C/350F till crisp and golden for about 20 minutes.
16. Remove, cool and serve hot or warm with chutney of choice.
Note: image is for illustration purposes only and not that of the actual recipe.