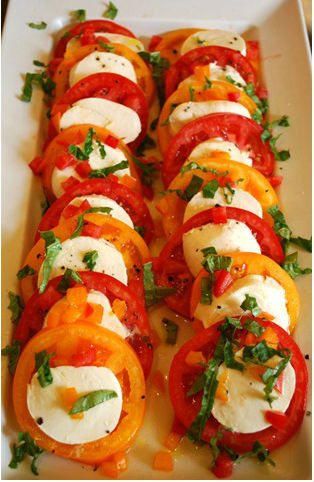 Ingredients:
Bocconcini – 10 to 12 pieces (Italian cheese balls and made with a fresh variation of mozzarella)
Basil – 1 bunch
Tomatoes – 8, small, thickly sliced
Sea Salt
Black Pepper Powder
Extra-Virgin Olive Oil
Method:
Strip the basil leaves and cut each bocconcini into three pieces.
Arrange the tomato slices side by side on a large plate.
Season lightly with salt.
Place a basil leaf on each tomato slice, then top with a slice of bocconcini.
Garnish with plenty of black pepper powder and a generous drizzle of olive oil.
Serve.
Subscribe to our Newsletter
Receive the latest recipes & kitchen tips !