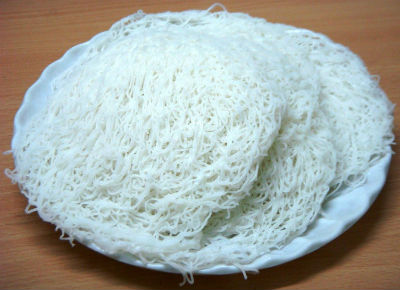 Ingredients:
Rice Flour – 1 cup,
Butter – 1/2 tblsp
Coconut Milk – 1 cup
Cardamom Powder – 1/4 tsp
Salt as per taste
Sugar as per taste
Method:
1. Add salt, butter to the rice flour and mix well.
2. Sprinkle little water and knead to a smooth, thick dough.
3. Add some of the dough to an idiyappam press and press on to a greased banana leaf or plate.
4. Steam cook the prepared idiyappam and transfer to a plate.
5. Serve with coconut milk.