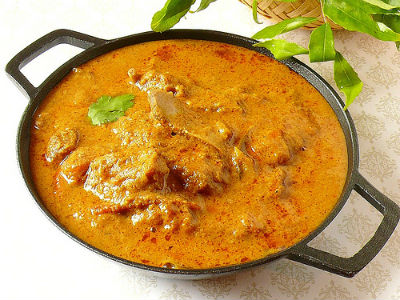 Ingredients:
Lamb Chops – 500 gms, chopped
Oil – 1/2 cup
Onions – 250 gms, finely sliced
Almonds – 1 1/2 tblsp
Green Chillies – 2, chopped
Bay Leaf – 1
Ginger Garlic Paste – 1 tblsp
Coriander Powder – 1 tsp
Garam Masala Powder – 1/2 tsp
Red Chilli Powder – 1 tsp
Yogurt – 2 tblsp
Mace Powder – a small pinch
Green Cardamom Powder – 1/8 tsp
Saffron Strands – ffew
Rose Water – 1/2 tsp
Salt as per taste
Method:
1. Heat 1/4 cup of oil in a pan over moderate flame.
2. Saute the onions till light brown.
3. Add the almonds and fry till onions turn dark brown.
4. Remove and keep aside to cool.
5. Once cool, grind to a fine paste.
6. To the same pan, add the remaining oil and stir-fry the green chillies, bay leaf, ginger garlic paste, coriander powder and 1/4 garam masala powder.
7. Add the lamb pieces and salt.
8. Cook for 10 minutes, stirring all the time.
9. Reduce flame to low.
10. Add red chilli powder and yogurt.
11. Stir and mix well.
12. Cook for another 2 minutes and simmer till all moisture have evaporated.
13. Add the onion paste and mix.
14. Now add the mace powder, cardamom powder and garam masala powder.
15. Fry for a few minutes and pour 2 cups of water.
16. Cook till lamb is tender.
17. Mix the saffron strands with rose water and add it to the pan.
18. Remove and serve hot.
Note: image is for illustration purposes only and not that of the actual recipe.
Image credit: Flickr
Subscribe to our Newsletter
Receive the latest recipes & kitchen tips !