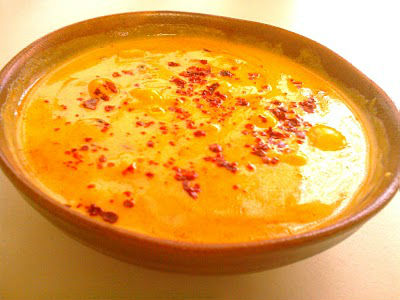 Ingredients:
Sour Yogurt – 1/2 cup
Besan Flour – 3/4 tblsp
Asafoetida Powder – a small pinch
Mustard Seeds – 1/4 tsp
Bay Leaf – 1
Dry Red Chillies – 2
Red Chilli Paste – 1/2 tblsp
Water – 1/2 cup
Turmeric Powder – 1/8 tsp
Ghee – 1/2 tblsp
Salt as per taste
Method:
1. In a bowl mix besan, yogurt and water.
2. Strain and add salt and turmeric powder.
3. Transfer to a pan over moderate flame and bring to a boil.
4. Stir constantly and cover the pan with a lid.
5. Reduce flame and cook for 2 minutes.
6. Heat ghee in another pan over moderate flame.
7. Add asafoetida, bay leaf, mustard seeds, red chillies and salt.
8. Saute for a few seconds and add the red chilli paste.
9. Simmer for a minute or two.
10. Add this to the yogurt mixture and stir well.
11. Cook for 30 seconds and remove.
12. Serve hot with rice.
image credit: taste home
Subscribe to our Newsletter
Receive the latest recipes & kitchen tips !