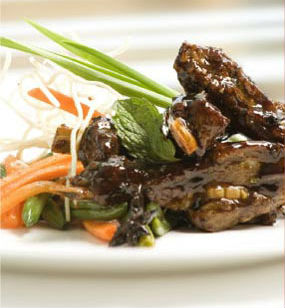 Ingredients:
Mutton – 250 gms, boneless, cut into bite-sized pieces
Green Cardamom Powder – 1 tsp
Mustard Oil – 2 tblsp
Mint Leaves – 3/4 tblsp, chopped
Raw Papaya – 1 tblsp, grated
Salt – 1/4 tsp
Green Chilles – 2, chopped
Coriander Leaves – 1 tblsp
Ginger Garlic Paste – 1/2 tblsp
Garam Masala Powder – 1/2 tsp
Black Peppercorns – 1/2 tsp, crushed
For the marinade:
Hung Curd – 1/2 cup
Ginger Garlic Paste – 3/4 tsp
Chaat Masala Powder – 1/4 tsp
Lemon Juice – 1/2 tblsp
Besan Flour – 1 1/2 tblsp
Mustard Oil – 1 1/2 tblsp
Cheese – 1 tblsp, grated
Salt as per taste
Method:
1. Heat oil in a pan over low flame.
2. Add besan flour and roast for 2 to 3 minutes.
3. Remove and keep aside.
4. Combine the coriander leaves, mint leaves, papaya and green chillies in a bowl.
5. Grind to a smooth paste.
6. Combine the roasted gram flour with oil, ginger garlic paste and all the other ingredients, except mutton.
7. Mix well and apply this mixture on the mutton pieces.
8. Keep aside for 8 hours and cover loosely.
9. Mix all the marinade ingredients and add the mutton pieces.
10. Keep aside for 60 minutes.
11. Place the marinated kebabs on a greased baking sheet and put the tray on a preheated oven at 180C.
12. Apply the remaining marinade and cook for 20 to 30 minutes.
13. Serve.