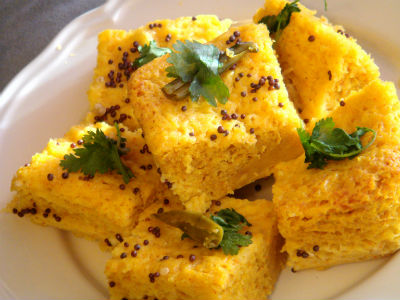 Ingredients:
Gram Flour – 1 cup
Sour Curd – 3/4 cup
Red Chilli Powder – 1 tsp
Fruit Salt – a small pinch
Coconut – 2 tblsp, grated
Jeera – 1/2 tsp
Coriander Leaves – few
Curry Leaves – few
Ginger – 1/2 inch piece, finely chopped
Green Chillies – 1 to 2, finely chopped
Oil as required
Salt as per taste
Method:
1. Mix the gram flour, salt, chilli powder with curd.
2. Add fruit salt and 1 tblsp oil.
3. Mix well until the mixture has thickened.
4. Transfer to a greased plate and steam cook till done.
5. Once it has cooled, cut into desired shapes.
6. Heat oil in a pan.
7. Add jeera, ginger, green chillies and mix.
8. Add the dhokla pieces and gently stir to mix.
9. Ensure the dhoklas dont break.
10. Add curry leaves, coriander leaves and grated coconut.
11. Stir and transfer to a serving plate.
12. Serve with chutney.