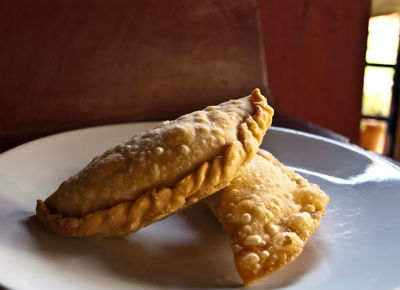 Ingredients:
Plain Flour – 225 gms
Ghee – 1 tblsp
Water for kneading
Oil
Salt as per taste
For the filling:
Coconut – 1, small, finely grated
Cashewnuts – 60 gms, finely chopped
Cardamom Powder – 1/8 tsp
Sugar – 110 gms
Ghee – 1 tblsp
Raisins – 60 gms, finely chopped
Cherries – 30 gms
Sesame Seeds – 1 tblsp
Water – 1/4 cup
Method:
1. Mix the sugar and water in a pan and place over low-medium flame to make a syrup.
2. Add the grated coconuts, cashewnuts and ghee.
3. Keep stirring and when it dries, add the raisins, cherries, sesame seeds and cardamom powder.
4. Remove and keep aside to cool.
5. In a separate bowl, mix the flour, salt, water and ghee.
6. Knead to a soft dough, cover and keep aside for 15 to 30 minutes.
7. Make small balls of the dough and roll out each ball into a thin layer of pastry.
8. Cut out circles and place a spoonful of filling in the middle.
9. Wet the edges with water, roll one half to make a half-moon and press the edges to seal.
10. Trim the edges with a pastry cutter and deep fry until light brown.
11. Remove, cool and store in an airtight container.