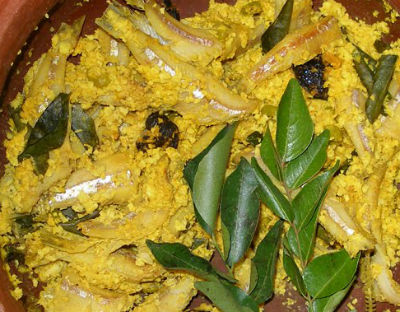 Ingredients:
Fish Fillets – 250 gms, cleaned, washed and finely chopped
Green Chillies – 2, slit
Ginger – 1 two inch piece, chopped
Tamarind Extract – 1/4 cup
Salt – 1/2 tsp
Grind to a coarse paste:
Coconut – 1/2 cup, grated
Small Onions – 2, chopped
Garlic – 1 clove, chopped
Coriander Powder – 1 tsp
Red Chilli Powder – 1 tsp
Cumin Seeds – 1/4 tsp
Turmeric Powder – 1/2 tsp
For Tempering:
Coconut Oil – 3/4 tblsp
Curry Leaves – few
Method:
1. Heat a pan over medium flame.
2. Add fish, green chillies, ginger, tamarind extract, salt and coconut paste with 1/4 cup of water.
3. Bring to a boil.
4. Reduce heat and cover pan with a lid.
5. Cook for 10 minutes till all water has evaporated.
6. Heat oil for tempering and fry the curry leaves for a few seconds.
7. Pour this over the pan and mix well.
8. Serve hot.