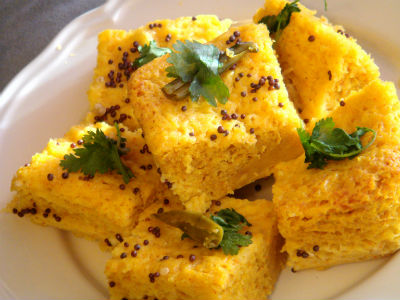 Ingredients:
Sweet Corn Kernels – 1 cup
Maize Flour – 2 cups
Ginger Green Chilli Paste – 4 tsp
Lemon Juice – 2 tsp
Sour Curd – 1 cup
Asafoetida – 1/2 tsp
Fruit Salt Eno – 2 tsp
Sugar – 4 tsp
Oil – 4 tsp
Salt as per taste
Coriander Leaves – 2 tblsp
For Tempering:
Asafoetida – 1/4 tsp
Sesame Seeds – 2 tsp
Mustard Seeds – 2 tsp
Oil – 2 tblsp
Method:
1. Mix 1/2 to 1 cup of warm water with maize flour.
2. Add sour cream and blend to make a smooth batter.
3. Keep aside for 45 minutes.
4. Add ginger green chilli paste, lemon juice, sugar, asafoetida, oil and sweet corn to the batter.
5. Mix well.
6. Add the fruit salt and mix again.
7. Pour th batter into a greased cake tin and steam cook for 20 minutes.
8. Meanwhile, heat oil and add the tempering ingredients. Fry till mustard seeds splutter.
9. Pour this over the cooked dhoklas.
10. Garnish with coriander leaves.
11. Serve with chutney of choice.
Note: image is for illustration purposes only and not that of the actual recipe.