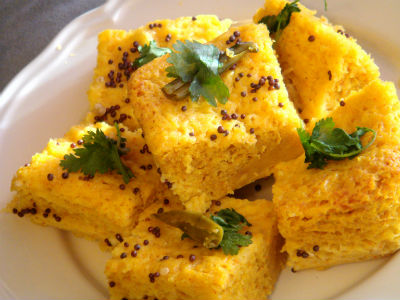 Ingredients:
Spinach – 1/2 cup, finely chopped
Paneer – 1/4 cup, grated
Dhokla Mixture – 400 gms
Green Chutney to serve
Butter/Ghee to grease
Coriander Leaves
Method:
1. Prepare the dhokla mixture as per instructions given on the packet.
2. Grease a cake tin with butter.
3. Arrange the spinach leaves in the bottom and sprinkle grated paneer on top.
4. Pour the dhokla batter over it and steam cook for 5 to 7 minutes.
5. Remove and flip the dhokla onto a plate.
6. Garnish with coriander leaves.
7. Serve with green chutney.
Note: image is for illustration purposes only and not that of the actual recipe.