Mysore Rasam is similar to the other types of rasams that are a part of the South Indian cuisines. However, it also differs from the regular rasam recipes in many ways. For example, in this rasam, you will have to use lentils and freshly grated coconut whereas most of the other rasams use grated copra. You can use the grated copra in this recipe as well but Mysore Rasam tastes the best when fresh coconut is used.
You can not only have it with plain or jeera rice but it can also be consumed as a soup due to its appetizing properties. If you happen to visit a hotel in Mysore you might also be served with this rasam as a complimentary appetizer. This rasam is not only popular in Mysore but is loved across Karnataka and surrounding states as well. Therefore, you must try this recipe to treat your family with a surprise dish.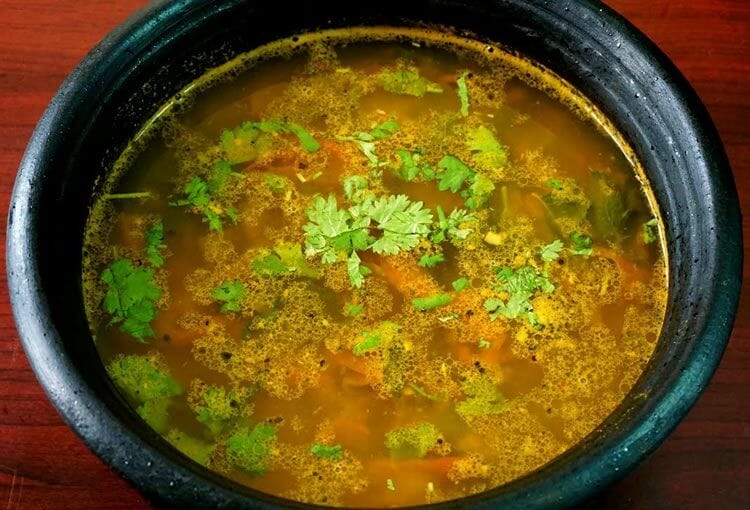 Mysore Rasam is also light and watery like any other rasam but it is slightly thicker than your regular rasams. As a result, people who do not like the texture and taste of watery rasams can also try this recipe out! You can also have the Rasam with regular dosa, masala dosa or with idlis.
Some people also like to add a little jaggery to this rasam but the use of jaggery is completely optional. However, jaggery balances out its spiciness quite well and also appends a slightly sweet flavor to the rasam. You also need to add coriander, curry leaves, turmeric powder, and tamarind as they are the main ingredients of this recipe. Also, the seasoning of mustard needs to be done in ghee instead of vegetable oil to bring more authenticity to this rasam.
A little bit of asafoetida gives it a magical aroma and you will not be able to resist drinking a hot and sizzling bowl of Mysore Rasam!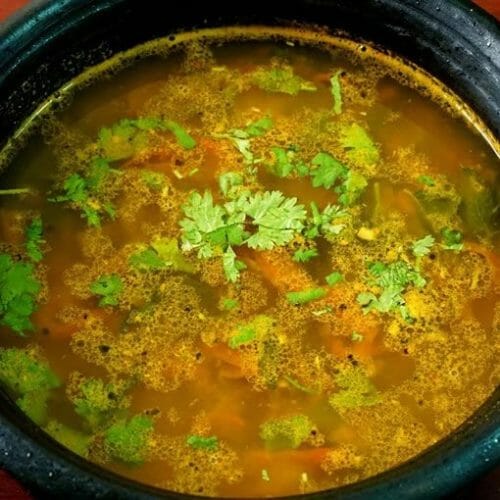 Mysore Rasam

Recipe

Mysore Rasam is a light and flavourful like any other rasam but it is slightly thicker than your regular South Indian rasams.
Ingredients for
Mysore Rasam
1/2

cup

Red Gram Dal

1/2

tsp

Turmeric Powder

1

Tamarind

small piece

a small piece

Jaggery

small piece

1

tsp

Ghee

1/2

tsp

Mustard

2

sprigs

Curry Leaves

1

tblsp

Coriander Leaves

chopped

as per taste

Salt
To Grind
2 to 3

Red Chillies

1/2

tsp

Coriander Seeds

1/2

tsp

Cumin Seeds

a pinch

Asofoetida

2

tblsp

Coconut

or Copra, grated
How to make
Mysore Rasam
Boil the dal with turmeric powder.

When done, mash the dal thoroughly adding some water, if necessary.

Boil tamarind in 1 cup water, take out the extract.

Add salt, curry leaves and some more water ( about a cup) and boil till the tamarind water is reduced to about half the quantity.

Fry the ingredients given for grinding in 1 tsp ghee until dark brown and grind to a paste.

Mix the ground paste with some water, add to the boiling tamarind water and continue to boil for another 5-7 minutes more.

Now add the mashed dal and jaggery, continue to boil. When it is about to boil over, remove from fire.

Season the mustard and curry leaves in 1 tsp ghee.

Add to rasam along with chopped coriander leaves.

Serve hot with rice.