Experience the rich flavours of Turkey with our Turkish Pot Kebab. Succulent minced lamb, fresh veggies, and aromatic spices come together for a mouthwatering delight perfect for gatherings.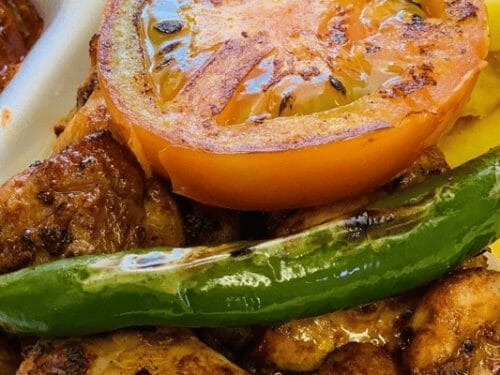 Indulge in the tantalizing flavours of Turkey with our Turkish Pot Kebab. This dish is a culinary adventure that showcases the essence of Turkish cuisine. It's a beautiful harmony of minced lamb, vibrant vegetables, and a symphony of spices, all baked to perfection.
Imagine succulent lamb, hand-mixed with chopped green capsicum, onions, and blanched, peeled tomatoes. A touch of parsley and a hint of tomato puree enhance the flavours. These ingredients come together to create a rich and aromatic stuffing. The magic happens when we take brinjals, giant potatoes, and more tomatoes, slice them, and fill them with this delectable meat mixture. The result is a unique, visually striking dish with flavours that will transport your taste buds straight to the heart of Turkey.
The Turkish Pot Kebab is a fantastic main course option for gatherings, special occasions, or when you want to treat your loved ones to something extraordinary. Serve it hot from the oven, and watch your guests delight in the exquisite flavours and presentation. For those who enjoy exploring international cuisine, this recipe is a must-try.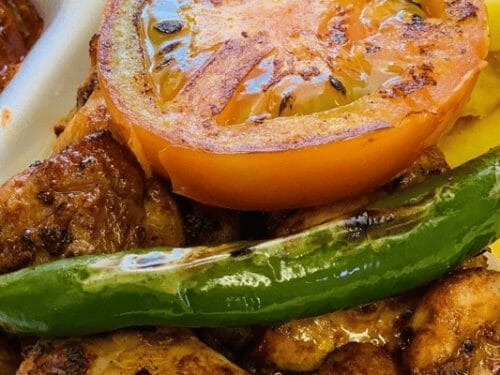 Turkish Pot Kebab
Experience the rich flavours of Turkey with our Turkish Pot Kebab. Succulent minced lamb, fresh veggies, and aromatic spices come together for a mouthwatering delight perfect for gatherings.
Ingredients
450

g

Minced Lamb

1/2

Green Capsicum (chopped)

1

small Onion (chopped)

4

Tomatoes (blanched, peeled, and chopped)

2

tbsp

Parsley (chopped)

1

tbsp

Tomato Puree

2

tsp

Salt

1

tsp

Black Pepper

1

tsp

Chilli Powder

4

Brinjals

4

large Potatoes

4

large Tomatoes
Instructions
In a large bowl, combine minced lamb, green capsicum, chopped onion, blanched and peeled tomatoes, chopped parsley, tomato puree, salt, black pepper, and chili powder. Mix well and set aside.

For the brinjals (eggplants), peel strips of skin lengthwise to give them a striped effect.

Peel the potatoes and wash the tomatoes.

Slice the brinjals, potatoes, and tomatoes in 1 cm intervals, crosswise, about 3/4 of the way down so they remain attached at the bottom.

Take each vegetable and fill the gaps with a little of the meat mixture.

Arrange the stuffed vegetables tightly in an ovenproof dish to ensure they keep their shape and hold the meat in place.

Half cover them with water seasoned with a little salt.

Bake in a preheated oven at 200°C (400°F) for 1 to 1 1/2 hours, or until the vegetables are tender.

Serve hot.
Our keema recipe is genuinely fantastic in Turkish cuisine, as it honours the rich culinary heritage of this vibrant culture. The dish is prepared with skill and passion, offering an authentic taste that will transport you straight to the streets of Istanbul. The keema is marinated in a delightful medley of herbs and spices, ensuring each bite bursts with flavour.
To complete your Turkish kebab experience, serve it alongside warm, fluffy Turkish keema naan. With a soft texture and slight char, these breads complement the kebab pot perfectly. They are the ideal vessel for savouring every exquisite morsel.
You may wonder about including the phrase "weed kebab " in English". Rest assured, there is no actual weed in this recipe. This phrase is a playful reference to this Turkish kebab pot's undeniable allure and flavour.
So, gather your ingredients and embark on an enchanting culinary journey with our Turkish kebab recipe. Discover the true essence of Turkish cuisine, and let it take your taste buds on an unforgettable adventure.
Frequently Asked Questions (FAQ):
What can I serve with Turkish Pot Kebab?
Turkish Pot Kebab pairs wonderfully with fluffy rice pilaf, a fresh Mediterranean salad, and warm pita bread. For a complete Turkish feast, consider serving it with hummus and baklava for dessert.
Can I make this recipe with ground beef instead of lamb?
Absolutely! Ground beef can be a delicious substitute for minced lamb. The flavours will still be fantastic, giving you a slightly different twist on this classic dish.
Are there any vegetarian variations of this dish?
For a vegetarian version, you can stuff the vegetables with rice, nuts, herbs, and spices. It's a delightful dish known as "Turkish Dolma."
Can I prepare Turkish Pot Kebab in advance?
Yes, you can prepare the stuffing in advance and stuff the vegetables when you're ready to bake them. This can save time if you're hosting a dinner party.
What other Turkish dishes should I try if I love Turkish Pot Kebab?
If you enjoy Turkish Pot Kebab, be sure to explore other Turkish classics like "Moussaka," "Iskender Kebab," and "Turkish Delight" for a sweet finish to your meal.
Note: image is for illustration purposes only and not that of the actual recipe.