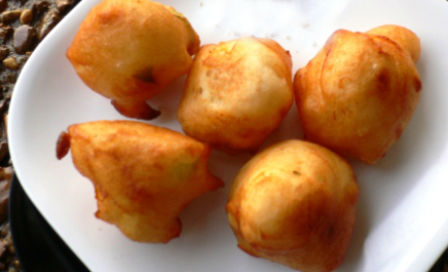 Ingredients:
Rice Flour – 1 cup
Urad Dal – 1/2 cup
Curry Leaves – few
Onion – 1, finely chopped
Ginger – 1/2 tsp, chopped
Green Chiillies – 1, finely chopped
Salt as per taste
Chana Dal – 1/2 tblsp
Oil for frying
For Seasoning:
Oil – 1/2 tblsp
Mustard Seeds – 1/4 tsp
Red Chilllies – 1
Urad Dal – 1/4 tsp
Asafoetida – a small pinch
Method:
1. Boil half the rice flour with a little water.
2. Mix with the remaining half and keep aside for 24 hours.
3. Soak urad dal for 4 hours.
4. Drain and grind to a fine paste, adding little water if required.
5. Mix the rice and ground dal together with curry leaves, onions, green chillies, ginger and salt.
6. Soak chana dal for 1 hour and add it to the mixture.
7. Fry the seasoning ingredients in 1 tblsp oil and add it to the rice dal mixture.
8. Take small walnut sized portions and shape into 2 inch rounds.
9. Heat oil in a pan.
10. Deep fry these rounds (bondas) till golden brown over medium heat.
11. Serve hot.
image credit: hotchulha.com
Subscribe to our Newsletter
Receive the latest recipes & kitchen tips !