Mangalore Bonda is a delicious and popular South Indian tea time /evening snack. Simple and easy to make, they can be seen in most street side shops too and is an integral part of most people's evening tea/coffee.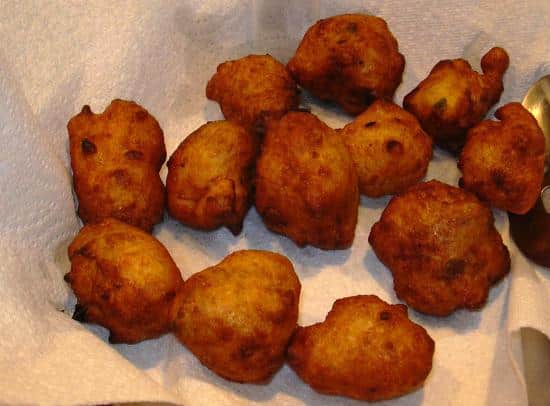 Ingredients:
Maida (Plain Flour) – 2 cups
Gram Flour – 1/2 cup
Rice Flour – 2 tblsp
Sour Curd – 2 cups
Cooking Soda – a pinch
Green Chillies – 2 to 3, finely chopped
Curry Leaves – handful, finely chopped
Ginger – 1 inch piece, finely chopped
Coriander Leaves – handful, finely chopped
Salt as per taste
Asafoetida Powder – a pinch
Oil – 500 ml, for frying
Onions – 1, finely chopped (optional, see note at the end)
Method:
1. Combine the maida, rice flour, gram flour and curd in a large bowl.
2. Mix well until thick. The batter should not be watery. If it is too watery, then it will absorb too much oil.
3. Keep aside for 5 to 6 hours.
4. Add the green chillies, salt, cooking soda, curry leaves, ginger, asafoetida powder and coriander leaves.
5. Mix well.
6. Heat oil in a deep frying pan over medium flame.
7. Pinch small balls from the thick batter and carefully drop them gently into the hot oil.
8. Fry on both sides until golden brown and crisp.
9. Remove and drain excess oil.
10. Serve with chutney of choice.
Note: In some places onions are also added.
Subscribe to our Newsletter
Receive the latest recipes & kitchen tips !