Samosas a popular snack across the Indian subcontinent. Often served as a tea time snack, they are also a meat by itself.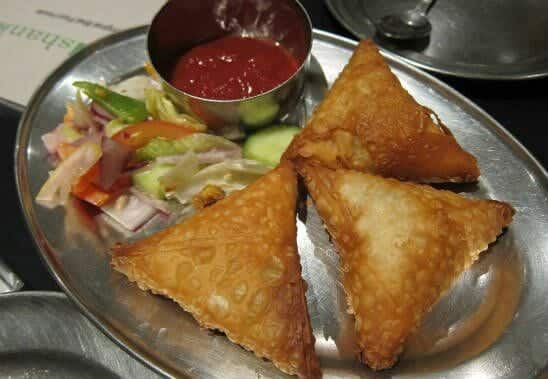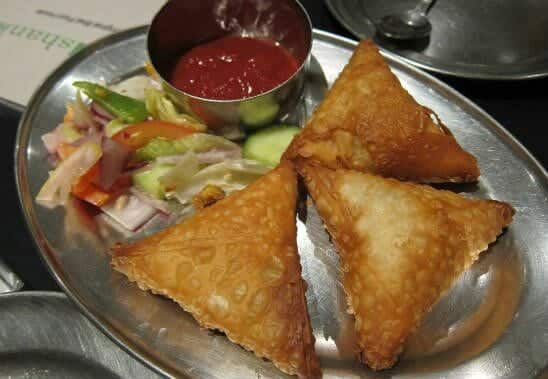 Ingredients:
Maida – 500 gms
Potatoes – 500 gms, quartered
Green Peas – 100 gms, shelled
Onions – 100 gms, finely chopped
Ginger Paste – 1 tblsp
Green Chilli Paste – 1 tblsp
Turmeric Powder – 1 tsp
Cashew Nuts – 15 to 20, broken (optional)
Cumin Seeds – 1 to 2 tsp
Saunf – 1 to 2 tsp
Coriander Leaves – handful, chopped
Garam Masala Powder – 2 tsp
Butter – 50 gms
Salt as per taste
Oil as required
Method:
1. Add a little salt to peas and potatoes.
2. Add enough water and pressure cook until 1 whistle.
3. Remove and drain well. Reserve the water.
4. Melt butter and add to a large bowl.
5. Add maida, salt, cumin powder and enough water.
6. Knead well to a poori dough consistency.
7. Make small balls and roll them out.
8. Heat little oil in a pan.
9. Fry the saunf for 20 seconds.
10. Add onions, cashew nuts, green chilli paste, ginger paste, turmeric powder, garam masala powder and stir well.
11. Add the potatoes (peel before adding) and green peas.
12. Cook for 2 to 3 minutes and mash lightly.
13. Add coriander leaves and mix again.
14. Remove from flame and allow it to cool slightly.
15. Add 1 or 2 tblsp of the potato mixture to the rolled out puris.
16. Fold them into a triangle and shape into a samosa.
17. Heat oil in a deep frying pan over medium flame.
18. Fry the prepared samosas until light golden brown.
19. Remove and drain excess oil.
20. Serve with mint chutney or sauce.