Tandoori Pomfret is a delicious seafood dish where a whole pomfret is marinated and cooked in a tandoor or in an oven.
Immensely popular in the coastal regions of India, this dish easy to cook and tastes good.
The dish is pretty versatile as it can be made in multiple ways – you can cook the pomfret in a tandoor, oven or grill it as well.
Serve this delicious dish with lemon juice for a happy weekday lunch or dinner.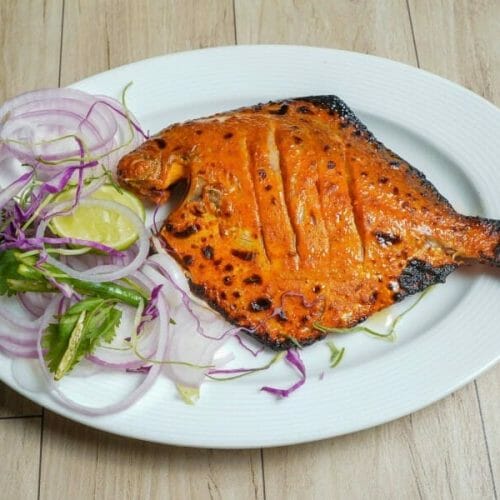 Tandoori Pomfret

Recipe

A juicy and delicious dish that is perfect for a weeknight dinner.
Ingredients for
Tandoori Pomfret
2

Whole Pomfret

cleaned and washed

3/4

cup

Plain Yogurt

3

tsp

Lemon Juice

1

tsp

Ginger Garlic Paste

1 1/2

tsp

Red Chilli Powder

1

tsp

Garam Masala Powder

3

tsp

Cream

3

tsp

Oil

1/4

tsp

Ajwain (Carom Seeds)

2

tblsp

Gram Flour

1/4

tsp

Turmeric Powder

1

tsp

Sea Salt

2

tblsp

Butter
How to make
Tandoori Pomfret
Make incisions on the both sides of the fish.

Mix the lemon juice, ginger garlic paste and 1/2 tsp salt.

Rub this all over the fish and keep aside for 15 minutes.

Mix the yogurt, cream, red chilli powder, garam masala powder and 1/2 tsp salt.

Heat oil in a nonstick pan over medium flame.

Add the ajwain and gram flour. Saute for 2 minutes.

Remove the pan from the heat, add turmeric powder and add this to the yogurt mixture.

Mix well.

Rub this all over the fish.

Place the marinated fish on a plate and cover the plate with cling film (plastic wrap) and keep it in the fridge for 45 to 60 minutes to marinate.

Place the marinated fish on a greased baking tray lined with a sheet.

Place it in a preheated oven at 175C/350F for 10 minutes.

Remove and baste it with butter.

Cook until the fish has a crispy and golden crust.

Remove and serve hot with lemon wedges.
Notes
Fish cooks fast so keep an eye when it is in the oven.