Ambala Paneer Sandwich is a very popular dish in Harayana made with sliced paneer and cheese. Ideal for breakfast, lunch and dinner, they are very easy to make and taste delicious.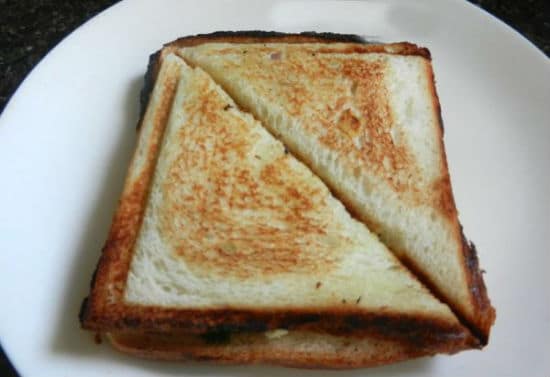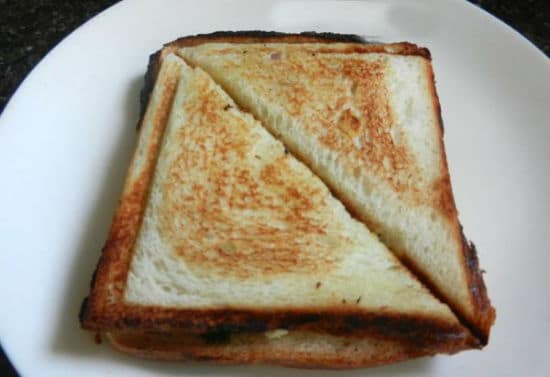 Ingredients:
Bread Slices – 8
Cheese Slices – 4
Paneer – 200 gms, sliced
Chaat Masala Powder – 3 to 4 tsp
Red Chilli Powder – 2 to 3 tsp
Ginger – 5 tsp, minced
Butter – 3 tblsp + little extra
Green Chillies – 2, finely chopped
Tomato Ketchup as required
Salt as per taste
Mint Chutney as required
Method:
1. Sprinkle some salt on the paneer slices and keep aside.
2. Butter half of the bread slices.
3. To the remaining slices, spread some of the green chutney evenly.
4. Place the bread slices on a flat surface.
5. Add a slice of cheese and a slice of paneer on one the slices with green chutney.
6. Sprinkle some chaat masala powder, red chilli powder, green chillies and ginger. Cover with the butter halves.
7. Spread some butter on top.
8. Heat a grill pan (or a non-stick tawa) over medium flame.
9. Toast the sandwich on both sides.
10. Remove and serve with ketchup.