New Year is the time to throw parties and have guests coming in the house. Drinks must be present in style to compliment the food served on the table. No party will be complete without wonderful cocktails. Try surprising guests with some amazing well known cocktails this year. The colors and fragrance of the drinks will make the cocktails hit at the party. Decorate the drink table wisely to make the drinks look fabulous. Select the following ten cocktails as these are easy to make and taste great at the same time.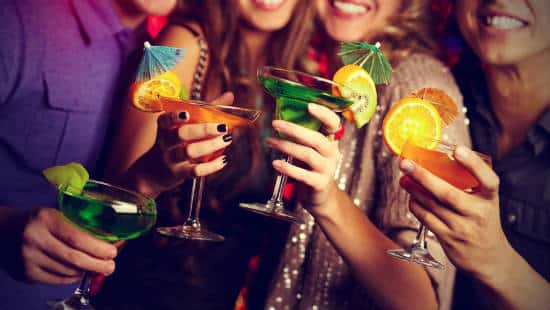 Mojito: Making this cocktail is simple with crushed ice, 4 parts of white rum, 2 teaspoons of sugar, 3 parts of lime juice, 6 mint leaves and lime soda splash. This refreshing drink will make the guests feel impressed when served in a Collins glass. Garnish with mint twig inserted at glass edge.
Cosmoplitan: This cocktail looks fabulous with red color and can be made with orange liquor, cranberry juice, vodka, lime cordial and crushed ice. Shaking in the jar is essential to make the drink frothy. Serve in a chilled martini glass with a lime wedge on the rim.
Bellini: This cocktail has an amazing color and can be made easily mixing 1 part of white peach juice or puree and 2 parts of sparkling champagne. Serve this Venetian drink on chilled Champagne flute without ice.
Apple Martini: This green colored cocktail can be done mixing apple flavor vodka, apple liquor, apple juice and pineapple juice. Crushed ice must be given in the drink for a chill and Cocktail glass can be garnished with a toothpick with three apple pieces stuck or a nice looking cherry.
Mimosa: Another amazing colorful cocktail having bright yellow color. Just mix chilled orange juice with sparkling wine and garnish with an orange wedge on the glass rim.
Margarita: This Mexican cocktail is all time favorite and requires mixing of 7 parts of tequila, 4 parts of orange liquor, 3 parts of lime juice, simple syrup and crushed ice. Serve in chilled Margarita glass with a lime wedge and make the glass look good with salt sticking on the edge.
Bloody Mary: This is a dark red cocktail with stunning flavor. It may sound complex to prepare but one can try making it with tomato juice, vodka, Piri Piri sauce, cayenne pepper, black pepper and salt. One can also add Worchester sauce, Tabasco sauce, horseradish, celery and olives to give it a twist. Garnish with lemon wedge and carrots inside the drink and orange colored straw.
Blue Lagoon: Blue color and refreshing taste of this cocktail will certainly wow any guest. Making it is simple with one part vodka, one part Blue Curacao and four parts lemonade on ice cubes. Serve in highball glass with lemon wedge.
Screwdriver: This is another common cocktail and easy to prepare. Mix orange juice and vodka in a highball glass over crushed ice. Garnish with an orange peel or cube stuck on the glass edge.
Pina Colada: Give the cocktail collection in the party a twist with a Puerto Rican drink called Pina Colada. Mix one part coconut cream, one part rum and 3 parts of pineapple juice on ice. Shake well and serve in Poco Grande glass with a piece of pineapple or maraschino cherry.
Try these cocktails at home and get ready for a gala New Year party. Make a collection of good looking serving glasses for every distinct cocktail and try garnishing the cocktails attractively. All these cocktails look good with bright colors and flavors.