A sweet and savoury popular Thai noodles with chicken, flat rice noodles and sauces. Typically served during lunch or dinner, they are great for any party! For a vegetarian version, replace chicken with fried tofu, fish sauce with lemon juice and oyster sauce with dark soy sauce.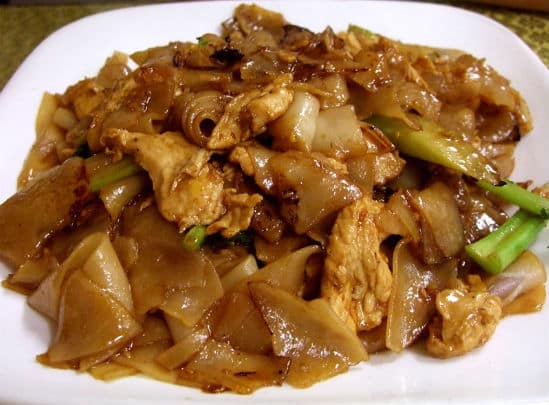 Ingredients:
Flat Rice Noodles – 100 gms
Chicken Breast – 1/4 cup, skinless, chopped
Broccoli (or Cabbage) – 1/2 cup, chopped
Oil – 3 tsp
Garlic – 1 clove, minced
Sweet Soy Sauce – 3 tsp
Fish Sauce – 1/2 tblsp
Oyster Sauce – 1/2 tblsp
Sugar – 1/2 tblsp
Method:
1. Cook the noodles as per packet instructions.
2. Drain and rinse until cold running water.
3. Drain again and keep aside.
4. Mix the sweet soy sauce, fish sauce, oyster sauce and sugar in a bowl.
5. Heat oil in a pan over medium flame.
6. Stir-fry the garlic until fragrant.
7. Add the chicken pieces and cook for 2 minutes or until it starts to change color.
8. Add the noodles, broccoli and the sauce.
9. Stir well and cook for 2 to 3 minutes.
10. Remove and serve at once.
Subscribe to our Newsletter
Receive the latest recipes & kitchen tips !