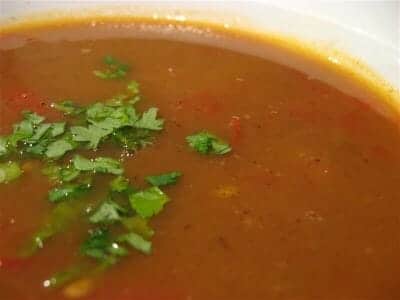 Ingredients:
2 tbsp cooked, mashed red gram dal (tuvar dal)
juice of 1 lemon
1 tbsp chopped coriander
Grind to paste:
1 tbsp coriander seeds
1 tsp red gram dal (tuvar dal)
1 tsp bengal gram dal (chana dal)
1/2 tsp black gram dal (urad dal)
1/2 tsp pepper
a small piece of asafoetida
1 red chilly
1/2 tsp turmeric powder
2 sprigs curry leaves
salt to taste
Seasoning
1 tsp ghee
1/2 tsp mustard seeds
1/2 tsp cumin seeds
1 sprig curry leaf
1 red chilly (broken into 2 or 3 pieces) (optional)
Method:
1. Add 2 to 2 1/2 cups of water to ground paste and set to boil on sim.
2. Boil till the raw smell is not there any longer.
3. Add mashed dal and simmer 1-2 minutes more.
4. When it starts to froth, add chopped coriander, mix.
5. Remove from fire, add lime juice.
6. Season ingredients given in that order, add to rasam mix.
7. Serve hot with rice.
Note: If desired, 1 chopped tomato can be added in step 1 and add less of lime juice.
Or instead of tomato, one tbsp of tamarind water can also be added.